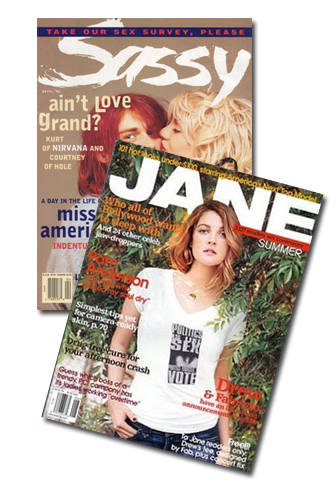 More than five years after leaving Condé Nast as founding editor of Jane—and even longer since exiting Sassy magazine as its founding editor—it appears Jane Pratt is staging a comeback to publishing. This time, the women's magazine editor is partnering with popular 14-year-old fashion blogger Tavi Gevinson.
On her blog, "Style Rookie," Gevinson says she was contacted by Pratt and that the pair has decided to launch a magazine "for an audience of wallflowerly teenage girls." The project, which apparently is just getting under way, is nameless so far, but won't be a replication of Jane or Sassy, according to Gevinson.
"Of course, it won't be Sassy (or the rebirth of Sassy, or Sassy 2.0) and nor do we want it to be," Gevinson writes. "For one, you can't try to recreate something that good. For another, while I can read old issues of Sassy and relate, the world has changed a bit in the past 15 or so years, and that whole Internet thing happened, and this world calls for something different. Something that will use Sassy as a point of reference for the whole teen-magazine-that-doesn't-suck thing, and something in which Jane Pratt will take part, but something that is not trying to recreate the other something a bunch of us love and don't want to see copied."
Gevinson has gained a certain level of popularity and notoriety over the last several months. In September, Gevinson worked with model Christine Staub to style a fashion editorial for BlackBook magazine. She was under the spotlight earlier this summer when she called out Seventeen magazine over its June/July issue which featured the cover line: "The Party Drug That Can Make You Fat & Ugly."
While Gevinson and Pratt's project is still in the early stages, Gevinson says the pair is moving quickly to shore up contributors. The deadline for submissions is this Friday, November 19.