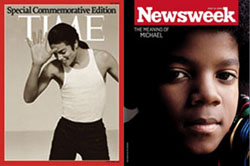 In the magazine world, unfortunate celebrity deaths usually mean a newsstand score for publishers (re: Paul Newman). And with the sudden death of Michael Jackson last Thursday, music, entertainment, and newsweekly magazines have been scurrying to publish tribute issues.
While some, like Vibe, have released statements on the King of Pop and his global impact ("Jackson was an absurdly talented, amazingly hardworking, troubled man. Which is to say he was built, literally, to be the biggest pop star this world has ever known," said a statement from Vibe Media Group COO and editor-in-chief of Vibe and The Most!, Danyel Smith), others, like Time and Newsweek, have managed to get their publications out of the gate for today.
Time's commemorative Jackson issue is retailing for $5.99 and is published in addition to its weekly issue. The last time the magazine published a special edition in between weekly issues was in the days following 9/11, said a company release; this issue sold more than 3.25 million copies in the U.S.
Newsweek published its July 13, 2009 issue early, available on newsstands now, featuring a cover image of Jackson as a child.
Of course, not all commemorative issues are created equal. Periodical distribution tracker and editor of industry newsletter The New Single Copy, John Harrington, wrote in his June 29 newsletter that it's "unlikely that single copy sales records" for Jackson's People commemorative issue will come close to the likes of Barack Obama's election edition (sold 575,000 newsstand copies, nearly five times a typical issue) and the death of Princess Diana (sold over 1.1 million copies domestically).
However, while individual titles may see Jackson ranking below expectation, the bright spot for publishers is a "major increase in newsstand sales" setting records with total sales for the category, including People, Us Weekly, In Touch, Star, Life & Style and OK!, said Harrington.
Due to a quick turnaround time and compelling cover images, Time and Newsweek could see big returns on their Jackson covers. It remains to be seen how upcoming Bauer publications Life & Style Weekly and In Touch, Entertainment Weekly, The National Inquirer, People, Rolling Stone and OK!—and the plethora of other magazines that publish Jackson commemorative issues—will fair.
Click here to see FOLIO:'s roundup of tribute issues from around the world.