Jack Kliger: 'At Least I'm Not Running a National Magazine'

Overheard at the CRMA conference in New Orleans.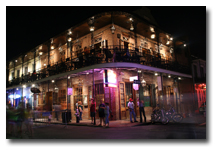 NEW ORLEANS—The City and Regional Magazine Association's annual conference concluded here Tuesday. (You can read FOLIO:'s coverage of the show here.)
Some leftover but timely quotes from event:
Author and speaker Orvel Ray Wilson, in a session on guerrilla marketing, quoting David Nour: "In social media, if you're not at the table, you're on the menu."
Former Hachette Filipacchi CEO Jack Kliger, who spoke in the last session on the second day: "That's where I always wanted to be—speaking at the last session of a conference where all the attendees are struggling through a recession and after they took a tour of Hurricane Katrina sites. I never followed Katrina before. Still, my opening line is good: 'At least I'm not running a national magazine.'"
Famed designer Walter Bernard was asked what he'd do if he were art director of the New York Times. "I'd look for another job," he retorted.
Question to one vendor: "How was this event?" Answer: "Pretty bad. I've had the least amount of conversations and interactions I've had at a show in some time. I feel like a printer!"
[PHOTO: Tony Silber]
Meet the Author
---