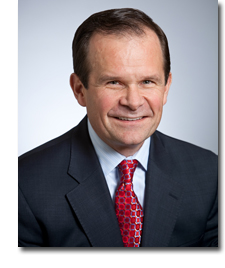 In uncharacteristically blunt language for this type of move, Time Warner CEO Jeff Bewkes announced to employees that Jack Griffin [pictured] was out as chairman and CEO of the Time Inc. magazine division.
"Although Jack is an extremely accomplished executive, I concluded that his leadership style and approach did not mesh with Time Inc. and Time Warner," Time Warner CEO Jeff Bewkes wrote in a memo to employees on Thursday.
Three Time Inc. executives–including editor-in-chief John Huey, CFO Howard Averill and general counsel Maurice Edelson–will manage the group until a replacement is announced.
Griffin replaced longtime Time Inc. chairman and CEO Ann Moore, who retired in August. He joined Time Inc. from Meredith, where he served as president of the national media group.
In December, Time Inc. revamped its corporate sales and marketing structure under Griffin, indicating the company would put the same emphasis on marketing services and integrated marketing groups that Griffin had championed at Meredith.
The publisher also created new News and Sports Groups, hiring former National Geographic president of publishing John Q. Griffin (no relation) as president of the news group.
Flagship magazines Time and Sports Illustrated were down slightly in ad pages in 2010 (2.9 percent and 1.8 percent respectively), while People was up 5.6 percent in ad pages for 2010, according to Publisher's Information Bureau.