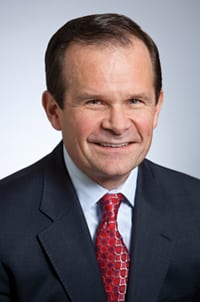 Just three months after his unexpected ouster as CEO of newspaper giant Tribune Publishing, Jack Griffin has landed at media M&A advisory firm DeSilva + Phillips.
Griffin will serve as senior advisor, effective immediately, according to a statement released today by the firm, which has completed over 280 M&A deals in its 20 years in business on behalf of a client list that includes Condé Nast, The New York Times, Wasserstein & Co., and Gannett, among several others.
Griffin brings extensive, high-level media industry leadership experience to the new role, which may well be merely a way station between publishing gigs. Prior to serving as CEO of Tribune Publishing from April, 2014 until last February, Griffin spent less than six months as CEO of Time Inc. before being dismissed in February 2011 amid widespread reports, including a public statement from Time Warner CEO Jeff Bewkes, that his management style was a poor fit with Time Inc.'s corporate culture.
Griffin had jumped to Time Inc., at the time part of Time Warner, after a far more successful tenure as president of the National Media Group at Meredith, where he spent several years laying the framework for Meredith's ongoing transformation from traditional magazine publisher to digital media juggernaut.
"Jack has run the largest U.S. magazine publisher, second-largest U.S. newspaper publisher and the largest circulation magazine in the U.S. and did all of this while innovating and extending those businesses into digtial and marketing services," said DeSilva + Phillips managing partner, Reed Phillips, in a statement. "We're excited to have him join us and believe his impressive record of building media businesses will greatly benefit our clients."