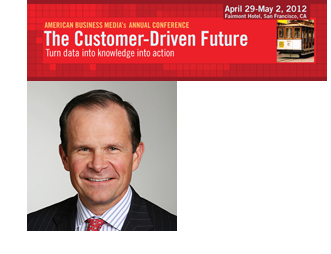 San Francisco—Jack Griffin, the former Time Inc. CEO and Meredith president, reached back to his b-to-b roots in a kick-off keynote presentation in front of a roomful of about 200 executives at ABM's Annual Meeting that started today here at the Fairmont. Griffin [pictured], who early in his publishing career reported for the supermarket trade publication The Griffin Report, and who now is president of consulting group Empirical Media Advisors, offered a sobering statement on the status of the b-to-b publishing market and the must-do strategies executives need to adopt to survive in a rapidly changing media landscape.
Griffin pinned his central theme on the continued persistence of b-to-b media companies to shed their legacy status by further diversifying into other platforms, particularly digital and events. This was driven home by a quote Griffin selected from Bill Pollak, the former CEO of ALM: "Our investment belief that the upheaval in advertising has only just begun and will swamp traditional carriers of branded print or banner advertising."
Here Griffin hammered Pollak's point home by citing the interest from brand marketers in driving more of their spend toward digital because of its ROI and accountability. Griffin highlighted Procter and Gamble, one of the country's biggest advertisers, which is spending more on digital and increasingly investing in its own media properties and skipping the media company middle-men altogether. "P&G is pursuing owned and earned media at the expense of paid media," he said. "One thing I think P&G is telling consumer media companies is that the golden river of advertising will no longer be sufficient to support all of them."
The same thing is happening in b-to-b, added Griffin. "There simply isn't going to be enough advertising revenue to support all the players in media," he said. "This means that monetizing the customer relationship in other ways will be the key to survival and prosperity."
The two big stumbling blocks for media companies in the past were giving away content for free and piling up cheap debt. "To make quarterly numbers and to satisfy financial owners, operators made short-term decisions and missed long-term investment priorities that resulted in negative impact on the business fundamentals."
So what's a publishing company that has built its business on decades of advertising-based revenues to do? Griffin outlined four building blocks that are unique to b-to-b publishers.
• Data and Audience
Griffin cited Adobe and its aggressive moves to acquire companies in the media measurement and monetization space. "Who would have thought that Adobe would own Omniture," he said. From there he noted ALM, IDG and others that have aggressively built audience data-centric operations that allow the companies to better segment and target their customers for alternative revenue opportunities. "So what's the lesson?" asked Griffin, "Data is the new media."
• Content and Brand
"Contrary to some conventional wisdom, the role of the brand is increasingly critical in a fragmented media environment," said Griffin. "Publishers should be oriented in finding complimentary partners who want to leverage their content so they'll be found, discovered and shared in as many venues as possible. Brands and the content that build them matter more than ever in a market of infinite choice."
• Convening Power and Community
The ability to draw communities and markets together is a strength unique to b-to-b, said Griffin. This has taken shape particularly in events, which are quickly taking a bigger share of the revenue pie. "No matter the vertical, people of like minds and interests always want to get together to share ideas and company. And with the global explosion, events are bringing new content and commerce opportunities with show apps and paid content."

• Social and Mobile
This is the category that Griffin feels will be the most transformative in the coming years. "For all of us, it is essential to understand because it underpins in the post-Internet age the next revolution in the ways that people obtain and consume information and the ways advertisers choose to reach them," he said. The proliferation of smartphones and tablets alone should be worthy of every b-to-b publisher's attention, with Forrester predicting over 250 million smartphones and tablets will be in use in the U.S. by 2015. "Every company should have a coordinated and dynamic plan to manage and promote the use of social media and mobile across the enterprise. And this plan must start from the root principle that the social object bringing the people together is not a product or service, but rather a shared value or purpose."