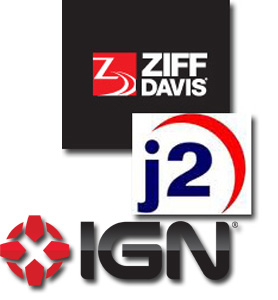 j2 Global continues to build out its digital media portfolio with the acquisition of popular gamer lifestyle brand IGN Entertainment, a News Corp property.
Terms of the deal were not disclosed.
Reports indicate the amount will be "considerably" lower than the $650 million News Corp paid for the network in 2005 however. Multiple outlets put the figure at less than $100 million–a "rock bottom" price in a "soft [and] limited prospective buyer universe," a source with direct knowledge of the market tells Folio:.
NewsCorp had reportedly been seeking $100 million for the property as of October.
IGN–publisher of digital properties IGN.com, UGO.com, 1UP.com and AskMen.com–will officially fall under the purview of Ziff Davis, Inc.
"This is Ziff Davis' sixth acquisition in under three years and a transformative one," Vivek Shah, Ziff Davis CEO, tells Folio: in an email. "We continue to believe the tech and gaming vertical is one of the most attractive in digital media. The combined reach and scale of the companies places us in the upper echelon of digital media companies."
He declined comment on potential effects the acquisition could have on IGN staff or operations.
ZD, which publishes several consumer titles in the gaming space, including PCMag.com and Geek.com, was purchased by j2 in November for $167 million. The two companies are at the heart of a new digital media division of j2 formed after the ZD purchase.
j2 had been exclusively involved in business cloud services prior to the ZD deal.
Hemi Zucker, CEO of j2, echoed Shah's thoughts in a release: "This is a transformative deal for our digital media business. By combining two of the most storied organizations in tech, gaming and entertainment, we have created a very powerful company capable of producing and delivering content in all forms to an audience that marketers highly value."
With 600-plus advertisers and 53 million unique monthly visitors, primarily males ages 18-34, the deal more than doubles the size of j2's digital media division.
The possibility of a $550 million loss is comparable in number to the $545 million hit News Corp suffered on the sale of social networking site MySpace two years ago. While it pursued the MySpace sale in May of 2011, News Corp also was attempting to turn IGN into a self-sustaining entity focused on the core gamer lifestyle market. Plans for the spinoff had fallen through by August however. AllThingsD had reported News Corp expected annual revenues of $100 million at the time.
j2 announces its Q4 and year-end earnings Feb. 13. News Corp releases its Q2 FY13 report Wednesday.
To stay updated on the latest FOLIO: news, become a Facebook fan and follow us on Twitter!