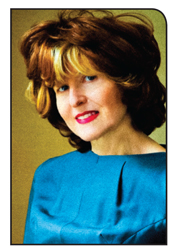 I was inspired to create Vintage Magazine after seeing a retrospective of Fleur Cowles' Flair (launched in 1950 and folded a year later). I was struck, at first glance, by Flair's beauty. I knew then and there that I wanted to create a magazine in the spirit of Flair for today's audience.  Putting blinders on, I went forward and created a textured, informative print publication—a print experience—that has attracted an extremely engaged and fantastically global readership.
The queries I encountered as Vintage was about to launch in Fall of 2010 came at me as a staccato-ed trio: 'Print? Now? Really?' My answer, sure and steady: What better time for print than when all eyes are upon on it—with naysayers focusing on the demise of print, what better time to take the art of the magazine to new heights; to create a truly vintage publication, if you will—one that informs, inspires, surprises and delights on every page, from cover to cover.
Heading into 2014, I state that it is an extraordinary time for journalism—for all media. We are invited, encouraged and urged to explore and invest in different approaches to story and news telling. To take advantage of the constantly changing tools that are available for graphic designers, for photographers, fine artists, for reporters and editors. It is also a ripe time for advertisers who have an ever-blossoming bouquet of platforms in which to showcase their wares. Vintage has been approached by several brands that are increasingly interested in incorporating unique and eloquent print opportunities into their marketing strategies.
Vintage Magazine heads into the New Year with great enthusiasm—keenly attuned to new possibilities and inspirations and with a fierce focus on our mission to create a publication employing integrity at every step, an eye towards excellence and steadfast attention to every detail.  
Print. Now. Really.