Italian Vogue's New Targeted Sites: A Catalyst for Change?

It seems as though these sites have a lot of unfinished business to tend to.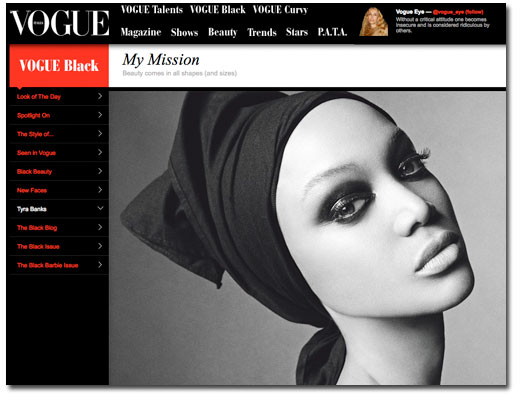 Vogue Italia recently launched a trio of Web sites—two of which seem to have a goal of filling in some of the widest gaps in the fashion industry: the lack of images and articles depicting African-Americans and women with fuller figures.
 
Vogue Black, Vogue Curvy and Vogue Talents, which casts a spotlight on up-and-coming fashion designers, went live last week with little or no promotion, at least stateside. Fashion and beauty bloggers, however, have had a lot to say.
Both Vogue Black and Vogue Curvy feature a mix of articles from previous issues of Italian Vogue as well as original content segmented into channels such as "Seen in Vogue," "Spotlight On," and "Look of the Day" (or in Vogue Curvy's case "Daily Suggestions.") The sites also feature blog posts and videos.
The magazine's creative team, at least for now, has chosen to focus more on style than substance. The interviews with Tyra Banks and Grace Jones on Vogue Black, for example, were somewhat buried by large high fashion shots of the two former models, but that seems to be the running theme on Italian Vogue's Web site anyway.
These sites are obviously meant to reach audiences beyond Italy's borders (although I didn't notice any promotion for them on American Vogue's site). The articles are published in English and a good portion of the content is written by U.S.-based bloggers such as Afrobella and Young, Fat and Fabulous.
To me, it seems as though these sites have a lot of unfinished business to tend to.  For example, Afrobella's article entitled "Know Your 'Fro" appears below a collage of images of wigs—and not Afro wigs, for that matter. The top of the page reads "Love Your Natural Hair," which I found confusing. There was also a link to Vogue Italia's Black Barbie special issue, which was published last year. But the link leads to one picture—nothing more.
The bigger question is what kind of impact these sites will have on the fashion industry as a whole. When Italian Vogue published an issue back in 2008 featuring all black models, it most certainly caused a stir on the newsstand as well as buzz among the fashion elite. But have the runways at Fashion Week been overloaded with black and other minority models since then? Of course not, but that's another issue entirely.
If these new sites continue to improve in terms of content and image organization then perhaps they will  have some impact—if not on the runway, then perhaps in fashion publishing. But many will wonder why there even needs to be separate Vogue sites for African-American and full-figured women. Is there really no room for these types of content on the main site and in the magazine each month, for that matter?
On the other hand, the fact that Italian Vogue has chosen to take these steps does show the brand is taking some initiative, and I'm sure if it didn't create these sites, those areas wouldn't get much high fashion coverage at all.
Meet the Author