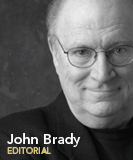 As talk of a downturn affects projections and planning, let us all remember that Fortune, perhaps the greatest business magazine of all, was launched in February 1930, four months after the Wall Street crash of 1929 that marked the outset of the Great Depression. Samir Husni, chair of the University of Mississippi journalism department, where he tabulates magazine launches, tells us that last year's new magazine launches totaled 715. "That's an average of nearly two new magazines each day, which is substantially higher than the number of new launches in 1991, the first year that commercial use of the Internet was allowed," he reports in the current issue of Writer's Digest. "To say the future of magazines is little more than a resting place in a graveyard full of Betamax and Laserdiscs would be ridiculous," he observes. "The past year has said otherwise."
With that in mind, here are a few thoughts on things to try and be aware of with your magazine in 2009.
• Magazines are using the space above the logo to sell more stories on the cover. Three or four stories can be highlighted here, thus eliminating cover line clutter on the lead story below the logo.   
• How old is the photo on your Editor's Welcome page? Let's try to keep it current, and some variety in poses, please.
• An easy way to highlight the Letters page and to remind the reader what story/issue is being referenced is to repeat the cover image for that issue on the page.
• If your magazine also sponsors events, here's an idea that might fly:
Frequent-flier plans were pioneered by American Airlines in the 1980's and quickly adopted by all airlines. The plans represented marketing savvy that ostensibly offered fliers something free for their loyalty, but also enabled airlines to build sophisticated customer databases, better utilize excess capacity and give customers plenty of benefits to choose from—but only on their airline.
How about a Frequent Reader Plan? After, say, two or three years as a reader, the member would be entitled to "elite" status and benefits, including:
• Subscription bonuses of 25 percent off additional issues.
• Invitations to private sales that allow readers to purchase items discounted 25 percent to 50 percent.
• Preferred seating at magazine events.
•Preferred rooms and upgrades at events.
•Companion subscription coupons.
•Partner relationships with other publications.
• During holiday issues, offer discount coupons from car-rental companies, hotels, phone services and cruise lines.
One reader e-mails: "We are wondering whether to change the ratio of advertising space to editorial space. Do you know whether any research has been done on this topic? Is there a point at which adding more ad pages compared to editorial pages results in a loss of readership?"
The ad/edit ratio is one of those things that is played like an accordion—some magazines are edit-heavy while others are 60, 70, even 80 percent advertising. In some categories—such as fashion, and especially anything wedding-related— advertising is why the readers are there: to browse among the advertising aisles and to make some planning and purchasing decisions.
Other categories—such as newsmagazines—are news and editorial driven, so they often have 70 percent edit to 30 percent advertising. I edited Boston Magazine, a big citymag in an ad-driven category, and we tried for a 50/50 balance. I found that if we had less than 50 percent editorial, the book began to look like what I call a "magalogue."
Of course, readers aren't aware that there is an ad/edit ratio involved. They only know what they see—and an effective design can often make a publication look newsier than it actually is by giving editorial more impact even as the page count dwindles.