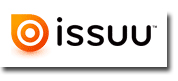 In the digital sector, some publishers are still waiting for online advertising to become as profitable as its print counterpart once was. Many complain digital ad offerings are not comparable to the quality in print; others say the infrequency and size of advertising units may be causing the problem.
Digital publishing platform Issuu, which partners with pubs like Industry, Bamboo and Subbacultcha!, has released Adpages, a print-to-digital advertising solution. Instead of creating an entirely new ad, Adpages converts existing print advertisements into digital units.
An Adpage ad appears as a display ad on a site, which then opens to a full spread featuring the print promotion. According to Mik Stroyberg, head of consumer engagement with Issuu, "We're not making digital ads; we launched a new way to edit. You can also include links in the new ad."
Advertisers are charged per click, not on the number of user impressions to a site. "You only pay if you engage the audience," says Stroyberg.
Adpages advertisements are auctioned similarly to ads for Facebook and Google; advertisers categorize their offerings and assign keywords. Fees for advertisers are then determined by categorical demand.