February 2008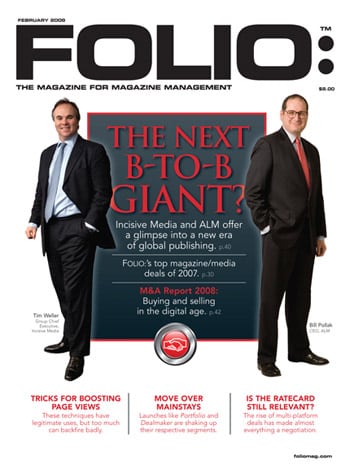 BUYER: MacrovisionSELLER: Gemstar-TV GuidePRICE: $2.8 billion (cash and stock)DATE: December 7TAKEAWAY: Gemstar's six month search for a buyer ends with a company that admittedly knows little about publishing magazines, leading to more speculation that TV Guide's print version will eventually...
BUYER: Incisive MediaSELLER: Wasserstein & Co.PRICE: $630 millionDATE: July 2007
BUYER: Bonnier CorporationSELLER: Time Inc.PRICE: $225 millionDATE: Closed March 2007TAKEAWAY: The deal signaled a significant, if seemingly rare, victory for a strategic buyer and created a 40-title consumer-enthusiast powerhouse with more than $350 million in revenue.
BUYER: Veronis Suhler Stevenson, with Citigroup Private Equity and New York Life Capital PartnersSELLER: DLJ Merchant Banking PartnersPRICE: $1.14 billionDATE: March 2007
Last year may be seen as the year traditional publishers began laying the groundwork for a more aggressive approach to e-media M&A.
BUYER: Insight Venture PartnersSELLER: Ziff Davis, Willis SteinPRICE: $150 million (plus $10 million depending on performance)DATE: June 2007TAKEAWAY: Now that it has a new CEO, look for ZDE to become active on the acquisition front, particularly with new media companies.
BUYER: Clarity PartnersSELLER: Modern LuxuryPRICE: $250 million (est.)DATE: MayTAKEAWAY: Clarity bought into the hot concept of regional luxury magazine markets for a hefty price, from a private equity fund that built the media company up and sold out for an...
SELLER: AscendBUYER(S): BNP Media (17-title Professional Services Division, including Stagnito Communications); AEGIS Communications (four-title Dental Group); Red 7 Media (EXPO)PRICE: Professional Services ($30 million est.); EXPO ($N/A); Dental Group ($N/A)
BUYER: Source InterlinkSELLER: KKRPRICE: $1.2 billionDATE: May 2007TAKEAWAY: The final divestment for Primedia wipes away its debt after a five-year pay down. Source Interlink, however, emerges as a "shocking" winner, paying well beyond what the sale was expected to collect.
After consecutive years of record-breaking media deals (both in volume and value), there are finally signs that the industry is cooling slightly. The credit market, so favorable to many of the jawdropping multiples seen over the past two years has...
British buyer Incisive is an aggressive entrepreneurial startup with a growing digital business. U.S.-based ALM is a market-leading traditional b-to-b publisher. This Odd Couple could be a perfect match.
Magazine production has changed dramatically in the last few years. Tools and standards that came to the forefront in 2007-ad portals, virtual proofing, online insertion orders, PDFs-were not exactly new but gained significant ground with publishers and printers. Publishers today...
ISSUE: December 2007FREQUENCY: MonthlyLAUNCHED: 1891CIRC: 118,000EDITOR: Robert IvyPUBLISHING COMPANY: McGraw-HillCREATIVE DIRECTOR: Kristofer Rabasca