December 2013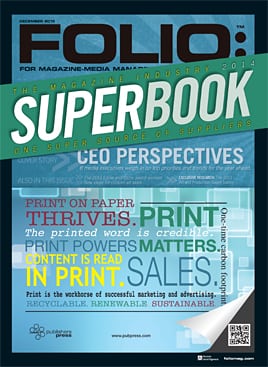 Awards season has arrived. The Oscars, the Golden Globes, all the rest. Some of these shows we love, most we secretly mock. There are way too many, to begin with.
Contributor networks can generate traffic and inventory with a much lower investment in the content by publishers. That's the idea behind them. They're a low-risk opportunity that, if scaled, can have some significant upside.
As we customarily do in our December issue, we've asked a group of media executives to speak to FOLIO: about their priorities for the year ahead, what they've been doing to prep for it and the market forces driving those...
Salaries trended in opposite directions for different levels of production departments last year, while art directors saw continued gains, according to respondents in FOLIO:'s 2013 Art and Production Salary Survey.
In early December, FOLIO: presented its annual Eddie & Ozzie Awards ceremony, which celebrates the best in magazine editorial and design. Huffington. and Nautilus were both big winners, taking home four and three awards, respectively. In all, more than 150...
Newsroom managers are fighting a tough battle between the tidal wave of consumer demands for instant news and financial restrictions cutting production budgets to the bone. Digital or print, magazines are struggling to fill the gap.
The end of a year always brings with it a host of new initiatives for the coming one. The year 2013 was a time that many publishers put renewed focus on digital and events, building out alternative revenue streams as...
Each month, FOLIO: selects a unique and engaging cover and asks industry designers to weigh in with their critiques. Whether it's a consumer, b-to-b, regional or association title, covers are the first point of entry for readers, and can be...