December 2012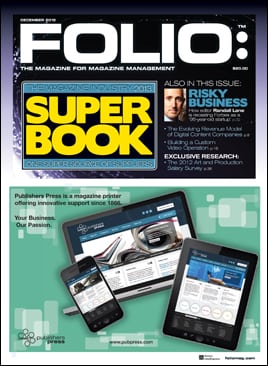 Randall Lane was working in an office building filled with unpacked boxes and exposed pipes "at the far fringe of the Garment District" when Folio: put him on the cover in 2007.
THE PATIENT: Porthole Cruise MagazineAGE: 20 yearsVITALS: Dangerously erratic pulsePROGNOSIS: Bleak
Developing a content syndication partnership with a larger brand can have long-term benefits that extend beyond the day, week or month your publication's copy is housed on another site. Introducing readers to your brand via an already trusted source can...
Integrated action and experience codes within the pages of a magazine are just one of the many ways publishers are connecting print to digital. As the technology gets used more, publishers are identifying what works and what doesn't.
Dwight D. Eisenhower said, "In preparing for battle I have always found that plans are useless, but planning is indispensable."  He could have been describing today's publishing landscape. We work with many publishers, and are continually reminded of the importance...
What would you rather do, support a business model on the declining value of the display ad market or build customized ad solutions while running a live event and subscription-based data service on the side?
Stack Media relied on a regional freelance network to reach a few hundred thousand viewers per month when it started its integrated video campaigns in 2008.
Every month, FOLIO: selects a small group of designers and art directors to offer critiques on visually-engaging magazine covers. The cover, after all, is the first point of entry for any magazine, retail or otherwise.
Michael BiggerstaffCEO, Nxtbook Media480 New Holland Avenue, Lancaster, PA 17602Phone: 866.268.1219 x150 • Web: www.nxtbookmedia.com
John F. PapaliaPresident/CEO, Statlistics69 Kenosia Avenue, Danbury, CT 06810Phone: 203.778.8700 • Fax: 203.778.4839