October 2014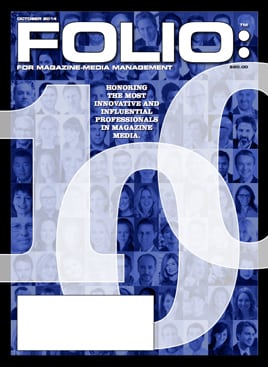 It's not a shocker that print ad revenue has fallen while the pile of dimes from digital advertising has been growing.
In June, private equity investment firm Wasserstein & Co. announced it was acquiring ALM Media from Apax Partners. It would be the second time Wasserstein has owned the company, which it had built through a series of acquisitions.Apax put ALM...
List growth among the top pain points.
Welcome to the 2014 FOLIO: 100 and 20 in Their 20s, our annual list of the magazine and media industry's innovators, entrepreneurial thinkers and disrupters. As it does each year, the list represents every facet of publishing from every corner...
Retailers, marketers and consumers have all started gearing up for the intensity of the holiday season. It's also a prime opportunity for publishers to leverage their content and create valuable engagements.
Uzoamaka MadukaFounder & Editor-in-Chief | The American Reader