October 2013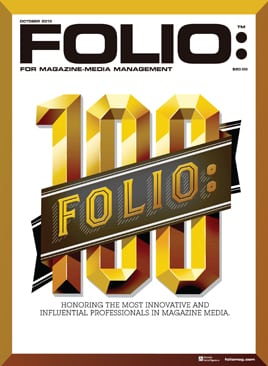 Welcome to the 2013 FOLIO: 100, our annual and vastly expanded list of the magazine and media industry's innovators, entrepreneurial thinkers and disrupters.
We normally publish the FOLIO: 40, one of our most highly anticipated editorial franchises, in April. But we've made some major changes.
AGE: 18 yearsVITALS: WeakPROGNOSIS: Prepare a DNR
Every year brings more complexities for the paper industry, but consistency in pricing has helped foster recent stability.
Each publisher has approached tablets at its own pace, with its own purpose. The result has left a scattered set of protocols across the industry.