September 2014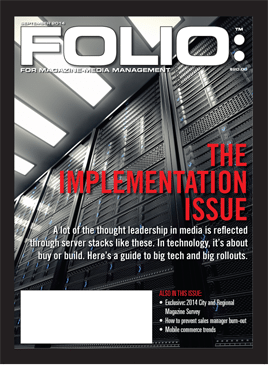 The most successful salespeople are often promoted to sales management. They have demonstrated knowledge of selling, and they have a pattern of success.
It's been 18 months since UBM Tech officially killed its print magazines. In their place, the B2B publisher and events producer in the IT market has been developing a series of community-driven brands aimed at engagement online and at live...
Ad page declines. Newsstand woes. Distribution messes. Postage increases. Digital growth.
It's no secret that audience development and circulation practices have been faced with a monumental set of challenges recently. As print becomes a smaller part of publishers' bottom lines, the...
 While many publishers are weighing new technology investment priorities like ad platforms, video production or content management systems, Spanfeller Media Group's The Daily Meal has focused its attention on building a kitchen.
  Issue: July/AugustFrequency: Monthly
Early this year, multi-market B2B media company Penton rolled out a major data initiative.
Proprietary content management systems have been a hot topic in digital publishing over the past year. Companies like Vox, Say Media, Forbes and others have made huge commitments to building out their platforms to not only serve internal needs but...
Like many other tech investments, creating a more efficient workflow was The Business Journals' objective when it set out to implement a centralized, automated ad sales platform.The company, a division of American City Business Journals, which itself is a unit...
The Patient: Newsweek Age: 81 years Vitals: Weak Prognosis: Downward spiral Occasionally we are presented with a patient that is half dead.