June 2014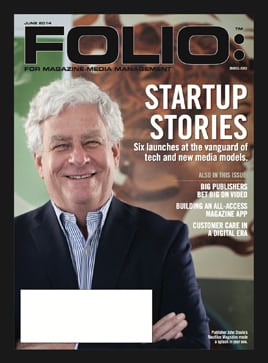 Rooster, goat, sheep, pig...elephant?
Back in mid-2012 Hearst launched its private ad exchange, six months after Condé Nast launched its own. At the time, the exchanges were set to offer a buying experience relegated to the publishers' stable of brands. Remnant ads were sold...
The startup culture is alive and well in the magazine media industry-with notable print brands emerging that, through a mix of high design and multiplatform strategies,
The advertising world is obsessed, to say the least, with the 18-34-year-old market. Accordingly, this has been a primary hurdle for AARP,
The paper industry is stabilizing in the face of downward pressures, but things are more uncertain for the sectors serving the magazine market.As a whole, U.S. paper companies have seen sustained growth since 2009, with revenue slowly approaching where it...
Issue: May 2014 Frequency: Monthly Launched: 1970 Circ: 26,350 Editor: Michelle Maskaly Cover Designer: Kevin Paccione Publishing Company: Journal Multimedia
Factors like experience played a bigger role, while others like company size took a back seat, but pay is staying consistent for advertising sales directors in publishing.