April / May 2014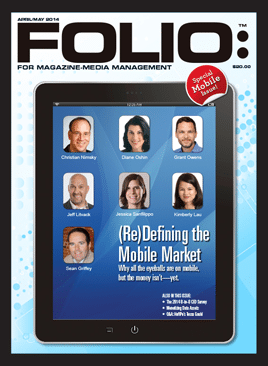 Despite the best guesses of b-to-b publishing CEOs, print revenue isn't going away and digital dollars aren't stacking up as fast as they thought (or, maybe, hoped) they would.Print advertising still accounted for more than half (52.5 percent) of total revenue...
Content management is often a balance between systemization and customization. As digital lines blur—between products, platforms and the constantly evolving versions of each—there's pressure to standardize content so it can live on longer and in more places.
THE PATIENT: All You AGE: 10 years VITALS: Stable PROGNOSIS: Very good Parents and teachers often instruct kids not to judge others too quickly.
Issue: April 2014Frequency: MonthlyLaunched: 1992Circ: 203,000Editor: Aaron HicklinCreative Director: David GrayPhotographer: Michael MillerPublishing Company: here Media
Native advertising is increasingly becoming a standard practice for publishers–especially for those reaching large audiences. However, the best practices for delivering the content haven't become standard yet.