April 2013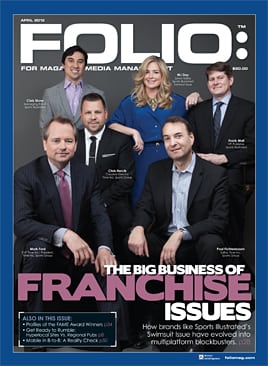 User comments are just another form of social media.They're a way to connect readers with writers and with each other. They're a way to extend a story and drive interest through conversation.Comments can be critical though; even rude or racist...
Imagine having more than 20 competitors spring up into your market over the course of the last two years. Now picture these competitors being backed by one of the largest digital media institutions on the continent. Welcome to the new...
Product reviews come in two flavors—toothless profiles that don't weigh pros and cons, and those that truly provide a balanced look at a product. The latter can not only directly impact a product's success or failure, but can help secure—or...
Like the media itself, telemarketing has changed—and it goes beyond cross-selling. FOLIO: talks to two companies who have tapped the reliable medium for an exciting new stream of revenue.From Discounting to Demos
Whether you're a trade or consumer publisher, events have quickly become a major source of revenue and a valuable brand extension.