iPhone Apps Are Nice, But It's the 'One-Stop Shop' That Will Benefit Publishers

Vendors could find opportunity as middlemen between publishers and devices.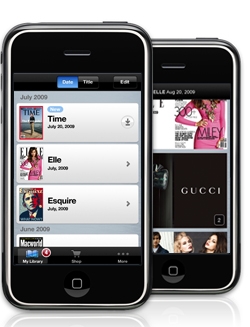 Digital publishing vendor Zinio has received much media attention over the last week with its announcement of an iPhone app at the Consumer Electronics Show that's drawn interest from big name magazines such as Car and Driver, Marie Claire and Yoga Journal (and most recently OK!). But iPhone apps are fairly common among digital magazine vendors. Advanced, Texterity and Nxtbook offer their own versions as well.
But what could pay off big for publishers are digital edition vendors developing services that can tailor content for multiple devices—serving as the middlemen between the publishers creating the content and the emerging devices (mobile apps, e-readers, tablets, etc.) that will ultimately feature it.
As Nxtbook marketing director Marcus Grimm wrote in a recent blog post, "The recently released iPhone/iPod version of the Nxtbook is really a Web app, not a native app available in the App Store. While we will be releasing native apps in the future, we actually felt the web version was more important."
Here's why, continued Grimm: "One of the most common concerns publishers have about their digital magazines (or anything else distributed via e-mail) is the erosion of open rates. And while there are many reasons open rates decline, one of the simplest reasons people don't click on digital magazine links in their email is the belief that the digital magazine can't open in the device you're reading it on. This concern gets magnified when you look at how many more people are actually reading their email on mobile devices. Thus, a version of the digital magazine that will open seamlessly when someone clicks on it integrates with a publishers' distribution strategy, and doesn't require development or marketing of a separate app."
Creating a "Unity" Platform
Zinio's new iPhone app is the first step in its "Unity" reading platform that the company says will optimize for the screen being read, rather than individual device-driven efforts.
"What buyers of content are willing to pay for on an ongoing basis, regardless of how we looked at it—is convenience and connectivity to the content they love," said Zinio global chief marketing officer Jeanniey Mullen. "There is a whole slew of tablet PCs, smart phones and in mobile, about eight unique operating systems. It made sense to be one point of digital distribution."
The iPhone app is the Zinio reader. "This enables us on the Unity platform to have content set up in a cloud computing environment," said Mullen. "A virtual subscription that sits in this cloud would allow you to download content wherever you want or read it online. The fee comes in when the reader buys content through a single issue or subscription. They can buy it once on any device and read it on a multitude of devices."
That could mean new relevance for digital vendors as partners. "Vendors like Zinio have been in the business for a long time and they're positioning themselves now in a slightly different way to be a one-stop shop to getting on all devices," said M. Scott Havens, The Atlantic's vice president of digital strategy and operations. "It's an interesting sell because there's now a way small publishers like The Atlantic can deal with all these platforms."
An Enhanced Digital Experience
Early versions of digital editions received some knocks for the static facsimile of the print version. But mobile may transform the digital reading experience. "We're in the first stage of implementing the app," said Philippe Guelton, executive vice president and chief operating officer of Hachette Filipacchi Media U.S., of the new Car and Driver iPhone app. "We've always believed in digital editions but the challenge has been the user experience. To flip through pages with a mouse and keyboard was not a perfect consumer experience. The turning point is the touch screen, whether in iPhone format or something else. This changes everything."
Car and Driver currently has a full issue available on the Zinio iPhone app, including advertisements, as well as the ability to share and forward articles. "Gradually we will have new functionality like posting on social media sites, hotlinks for all the web sites mentioned in the issue," said Guelton. "This is a very positive development and I would expect the same from other players. At the end of the day, we want to reach as many people as possible. We want to be in as many stores as possible and be on as many devices as possible."
Meet the Author
---