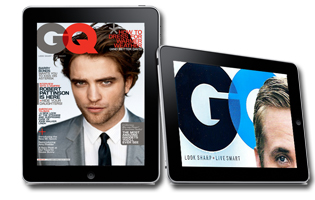 The success and popularity of the iPad has spurred publishers from all over the world to adopt the medium, creating a new audience for their printed content. However publishers that depend on subscription sales have struggled to find the right delivery model for the iPad.
Apple's terms and conditions have caused concern within the publishing industry. Many publishers are reportedly unhappy with the lack of data Apple provides on app buyers (their readers), which makes it difficult to deliver subscriptions, and many object to the 30 percent commission Apple charges for app store sales.
Another challenge is that there has been a dearth of off-the-shelf tools required to implement subscriptions properly on the iPad. Apple does provide a subscription option for any in-app item that is sold through the app store. This is simply a facility for multiple issues to be bought under one transaction price, and clearly it's absolutely key for making subscription-based apps work. However, the trick is that the app needs to communicate with externally hosted subscription-management software—and Apple does not provide this capability. Mechanisms exist within Apple's Software Development Kit for writing the software to manage the subscriber and to control their rights to receive and view publications; however those mechanisms apply only to single-copy sales—anything beyond that falls on the app developer.
Selling a subscription-based application on the app store is possible. Developers simply have to respect the way that Apple works, while enabling features, such as subscription management and the ability to communicate with app users, that publishers really need.
Done successfully, subscription apps can allow for free content, paid single issues, and subscriptions to all work on the same device at the same time, with simple-to-use authentication. With some ingenuity, app developers can build in the capability for users to submit an email address and password specifically related to the app for notification and synchronizing of content (required by Apple for app restoration). This allows users to access their content on multiple devices, and avoids the need for expensive, custom solutions on the publisher's website.
Behind the scenes, the subscription concept revolves around a group of editions as each subscription's center, with new editions being added to the group by the publisher at regular intervals along with specific shipping dates. The subscribers then gain access to subsets within that group, depending on the length of subscription they've purchased.
This model allows publishers to create content, select a delivery date and have the issue appear immediately for subscribers, along with a simple email and push notification to let users know that the new content is available. Even when they don't have contact information for users, publishers can still push notifications and updates to a user's device.
Publishers can also develop apps that offer value-added subscriptions, so that purchasers of a print or combined subscription can gain access to a digital edition for their desktop, laptop, iPad and iPhone, all with a simple update using a web service or control panel. This approach enables users to easily purchase both single copies and subscriptions directly from the iPad or iPhone with just a few taps using their Apple account. The 30 percent fee Apple charges may seem high to publishers but the ability to gain increased sales volumes from impulse buying and from the high traffic at the app store should be factored in to the equation.
While Apple doesn't yet have a renewing product type for subscription renewals, a publisher's app can be designed to inform the user when they need to purchase a new subscription period by push notification and e-mail—re-subscribing takes a matter of seconds.
We expect that over time, Apple will continue to add more flexible options for publishers and as an app developer we welcome those features. However publishers should understand that there's no need to wait; there are options available to them today.