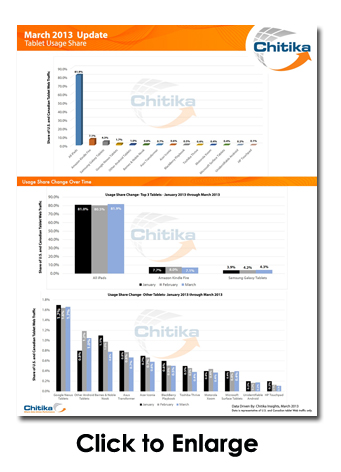 *Editor's Note: This story originally appears on FOLIO: sister site minonline.com.
While many research reports have found a further fragmentation of the tablet market after the holiday 2012 season, Apple devices continue to drive far and away the most Web activity in North America.
According to mobile ad network Chitika and its analysis of hundreds of millions of ad impressions during the month of March, iPad users generated 81.9 percent of US and Canadian tablet Web traffic, an increase of 1.4 percent basis points in a month. Over that same period Amazon's Kindle Fire device declined slightly in traffic share with Web usage down to 7.1 percent. Both the Google Nexus and Samsung Galaxy devices have relatively minor footprints. Samsung tablets are driving 4.3 percent of tablet Web traffic, while Google's devices drive 1.7 percent. Web browsing from the Barnes & Noble Nook is negligible, only 1 percent.
These statistics don't necessarily reflect the overall popularity and usage of the individual tablet devices across the board. They are instead indications of which devices are being used more broadly as Web browsers and from which magazine brands can expect to see users come to their websites. Chitika only measures tablet usage share in Web traffic, not app use and certainly not digital magazine or e-book reading. Nor does it indicate for that Amazon's Kindle Fire is not having an impact on the market. In fact, historically the device is now driving 66.8 percent more Web traffic volume than the platform did before the December holiday.
But the numbers do mean, however, is that site designers still have a big, fat and consistent target in aiming for the iPad.
Stay updated on the latest FOLIO: news, follow us on Facebook & Twitter!