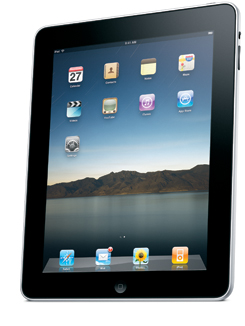 Magazine publishers are scrambling to be on the iPad and why not?  Wired saw 73,000 downloads in the first nine days after its iPad edition launched and editor-in-chief Chris Anderson anticipated iPad downloads beating newsstand sales (which average mid-80,000) in June without cannibalizing print sales. IDG's PCWorld and Macworld went from 600 monthly downloads COMBINED with their digital editions to 8,000 downloads with their iPad version. With the iPad (and the slew of tablets expected to hit the market), publishers have finally found a format online.
 
But getting an app approved can be a frustrating ordeal, especially when publishers find out at the 11th hour that their proposal has been rejected (in what increasingly seems to be arbitrary fashion). Condé Nast famously had to rework its iPad apps when Apple announced that it wouldn't accept Flash.
More recently, a source told FOLIO: that Sports Illustrated was forced to withdraw its subscription model for an iPad app, even though the magazine felt like it was following similar models of the Wall Street Journal and Wired by allowing print subscribers to access the iPad version free this year, with new readers buying the content a month at a time. Apple is said to have forced SI to change the offer to single copy purchase. SI declined to comment about whether it had to change its subscription model but a spokesperson did say, "We're working with several partners to develop our subscription platform which we hope to introduce later this year."
 
Most digital magazine vendors are offering an iPad app these days and serve as an intermediary between the publisher and Apple. But working with Apple can be frustrating for them as well. "It's tough because they really want you to play by their rules," Marcus Grimm, marketing director at NXTbook Media, tells me.  "In the process of submitting our app to the Apple Store, we wanted to include Omniture tracking because our publishers have come to expect a lot of data. Apple has been very upfront about saying, 'Hey, we're going to watch how much data you can give people.' The Apple process says, 'If you do anything special with tracking, please let us know ahead of time so we can guide you' and we wrote a long e-mail about what we wanted to track and why, and their response was, 'We won't comment until you submit the app.' We're developing according to how we think they'll react but that's not really a business partnership. You just read the spec guide and say a prayer."
 
That leaves publishers (who have invested significant time and money in developing apps) at the mercy of a process they largely have to guess at. Long-term, an even bigger concern is how Apple can dictate both the financial model and customer interaction with emerging iPad editions.
We've often heard that "the newsstand model is broken." Let's hope that the promise of the iPad and other tablets isn't broken before it's even out of the gate.