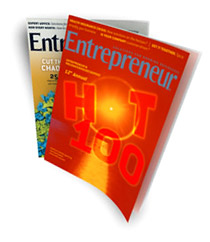 A group of investors has filed suit against Entrepreneur, alleging the magazine misled them about a company featured on its "Hot 100" list.
Entrepreneur says it was not their intent, and called the lawsuit "unwarranted."
The company, Agape, was ranked number 73 among Entrepreneur's "Hot 100" fast-growth businesses. The issue was published in May 2008.
In January 2009, Nicholas Cosmo, founder and owner of Agape World, was arrested and charged with a $370 million mail fraud. According to Time.com, it appeared Cosmo was running an alleged Ponzi scheme, similar to Bernie Madoff's.
According to the suit, filed in Nassau County (New York) earlier this month, Entrepreneur "deliberately, willfully and recklessly failed to exercise due diligence in publishing information" about Agape. (The lawyer in the case, Eliot Bloom, is representing an Agape investor in a separate lawsuit against Dunn & Bradstreet, which provided data to Entrepreneur to help rank the companies.)
"Entrepreneur did not attempt to verify the information it received from Agape, at no time did Entrepreneur visit Agape headquarters," the suit alleges, or "meet with its principals. … Had Entrepreneur conducted itself with a minimum of due diligence … it would have found much of the information provided by Agape as false."
In a statement provided to FOLIO:, Entrepreneur CEO Peter Shea said: "Given the limited information provided about each company, it was certainly not Entrepreneur's intention to evaluate or predict a specific company's investment potential nor expectation that anyone would rely on such information to make investment decisions … Placing blame for these unfortunate events on Entrepreneur is unwarranted."
Each of the 87 investors named in the suit relied on Entrepreneur's "conclusions regarding Agape's financial stature" and decided to invest.