Investment Firm Watermill Group Buys Manistique Papers

Deal strengthens a portfolio of 100 percent recycled paper manufacturers.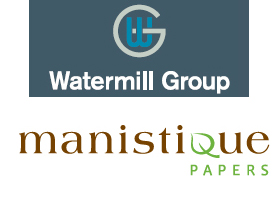 The Watermill Group, an investment firm with a growing portfolio of paper manufacturers that specialize in recycled content, will acquire Manistique, Michigan-based Manistique Papers.
Terms of the deal were not disclosed, but Manistique makes 100 percent recycled uncoated paper and will be aligned with Watermill's other portfolio company, FutureMark Paper, which makes 100 percent recycled coated publication paper. The two manufacturers will be run as sister companies with a shared management structure headed by FutureMark president and CEO Steve Silver.
While the two companies will exist under close cooperation by developing shared best practices and resources, they will remain separately owned and operated, says Watermill.
"We believe we can help bring new value and opportunity to Manistique's operation while expanding FutureMark's leadership in environmental paper," says Silver in a statement announcing the deal. "As reflected by our success with FutureMark, which saw revenues climb 15 percent in a declining market last year, we've found a business model for the paper industry that works, and we're eager to apply this strategy to Manistique while allowing both organizations to flourish as separate, focused operations."
Manistique Papers can produce 500 tons of recycled pulp per day and approximately 130,000 tons per year of uncoated, 100 percent recycled paper. Together, Manistique and FutureMark produce about 300,000 tons of recycled paper per year.
Meet the Author
---