Investing Outside the Box: The Daily Meal's Test Kitchen

ROI equals better content, marketing, sales and brand equity.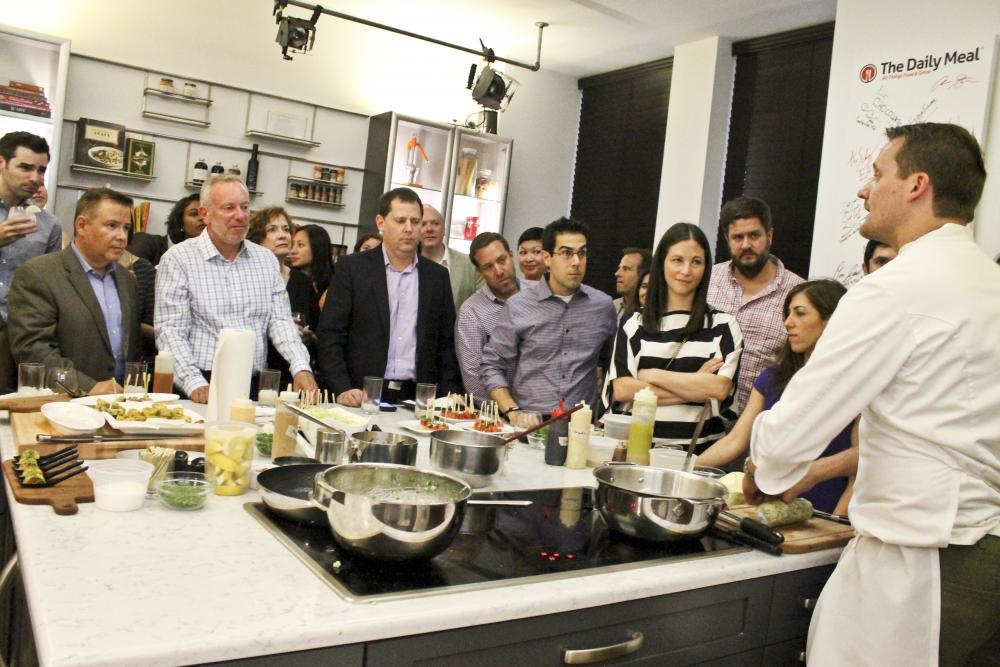 While many publishers are weighing new technology investment priorities like ad platforms, video production or content management systems, Spanfeller Media Group's The Daily Meal has focused its attention on building a kitchen.
A test kitchen is by no means a new form of investment for an epicurean publisher, but The Daily Meal is leveraging its setup in a multitude of ways. That is, beyond providing its editorial team with a food lab and video studio, the test kitchen also offers the brand a platform for product placement and integration, exclusive events and networking.
Best of all, the company worked with four sponsors who helped build and furnish the kitchen with their products—Kitchen Aid, Plain & Fancy, Häfele and Silestone.
FULL-TIME STUDIO SPACE
On a daily basis, the test kitchen, which also acts as one of four video studio spaces the company has, typically films two or three videos. To date, the site has a video library with more than 1,700 pieces for its 9 million monthly unique visitors. But Jacqueline Stone, senior vice president of marketing, says that the company quickly figured out that the test kitchen could be more than a studio and that "there were opportunities to bring it alive."
At capacity, the kitchen can fit upwards of 60 people—tightly packed. That means events have to be small and intimate and produced for advertisers, potential clients and members of the press.
PART-TIME LIVE EVENT SPACE
The model is pretty simple. About every three weeks the kitchen hosts a celebrity chef who will typically bang out 6 to 8 signature bites for the invitation-only crowd. Stone says that the interest amongst top-tier chefs has made bookings much easier. In fact, she says the ratio between who calls her versus who she calls is 80/20.
What's more, staffing for these functions is relatively easy. According to Stone, the chefs usually bring their own team and require very little additional support.
See also: The Daily Meal Launches TV Series 
Typically the only staff The Daily Meal needs to provide is bussers to clean up during and after the event.
In addition to the sponsorship money that the kitchen pulls in, Stone says she also measures success by the relationships that the kitchen has helped cultivate. "The kitchen has closed deals," she says. "We have brought in potential clients and have actually closed deals."
CONTENT GENERATOR
There's another upside to the events—more content. The following day after each event there is editorial content focused on the visiting chef. And soon that will extend to video as well.
Not surprisingly, The Daily Meal has replicated its kitchen model with a bar studio as well, in light of the popular craft cocktail movement (not to mention it complements its kitchen). And like the kitchen, the bar was built in cooperation with a sponsor.
Soon the company will be rolling out even more exclusive events within its kitchen and bar. Stone says that private dinning is the next phase, meaning CEO Jim Spanfeller will host meet-and-greet dinners with industry peers and perhaps talk about pressing, mission-critical business issues. Like the larger tasting events, celebrity chefs will also provide the cuisine.
Meet the Author
---