InTouch Publishes Blackberry Photos to Back Brit Story

Need proof for a story? Look to the Blackberry.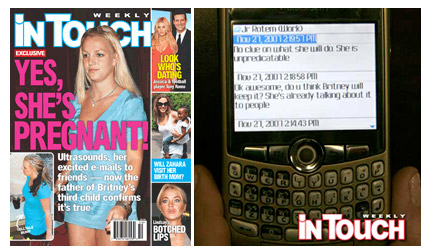 We've all gotten used to the idea of the e-mail interview, the interview via instant messenger (the "IMterview"), even cover story interview conducted via Blackberry (see: Lindsay Lohan, GQ et al). But what about using the Blackberry logs to back up investigative reporting? Definitely never thought I'd type this sentence, but here goes: It appears as though In Touch magazine has become the first major magazine to reprint photo evidence of a Blackberry text message exchange to back up claims in a reported story-specifically, that Britney Spears is pregnant:
Contrary to the statement J.R. Rotem released on November 28, In Touch has documented proof that on Monday, November 26, the music producer did indeed confirm in these text messages that Britney is pregnant and that he is the father. When asked about rumors about Britney's pregnancy and whether he is the father, J.R. texted, "It's true." And when questioned about Britney's intentions regarding her unborn baby, he responded, "No clue on what she will do. She is unpredictable."
Ahh, the intersection of technology and celebrity journalism.
More here …
Meet the Author
---