Interweave To Launch Two More "eMags;" Says Digital Editions Are Profitable

Eighteen more planned for 2011.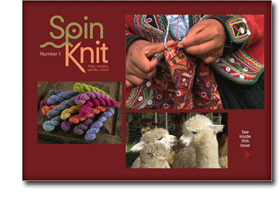 Interweave is launching two new eMags-SpinKnit, which launches today and as is available at the Interweave store-and Handcrafted Jewelry Studio, which debuts Dec. 6.
The two eMags join digital editions Sockupied and Quilting Arts in Stitches, which Interweave launched earlier this year. The eMags run on Adobe's Air platform and can be downloaded directly to the user's MAC or PC computer. Each edition is available for $14.97 and features scrolling slide shows, animation, "how-to-information" and social components. SpinKnit features 15 videos totaling one hour of viewing time, while Handcrafted Jewelry Studio will have more than 40 minutes of video and eight step-by-step projects.
Interweave isn't sharing specifics on the success of the eMags to date but the company plans to launch 18 more in 2011. "Yes, the eMags are profitable for us," says senior vice president and publisher John Bolton. "We decided to create them for the computer first because we can provide the readers with a superior experience. As the tablet devices gain market share and technology evolves, we expect to adapt our eMags for tablet devices in 2011. That said, we know that more than 95 percent of our existing customer base has access to a computer and can read our eMag."
Meet the Author
---