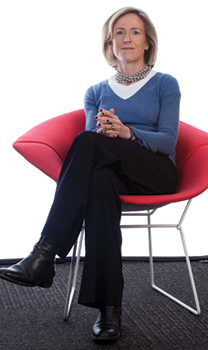 The phrase "print dollars, Internet nickels" gets attributed to Time Inc. CEO Ann Moore, who a few years ago compared the trickle of online revenue consumer publishers were seeing to the traditional billion dollar print business. According to Fitch Credit Reports, online magazine advertising still made up less than 5 percent of the overall online advertising market as of 2007.
However, large consumer companies are being forced to accept that the old ways are gone. Barron's recently reported that, for the first time, large media companies like Time Warner and News Corp. are now valued at less than six times pre-tax cash flow.
While larger consumer publishers originally saw online as just an extension of their magazine Web sites, now they're revamping their internal structure for a more dedicated online approach. Even Conde Nast, the world's largest magazine publisher and a company often accused of continuing to prioritize print at the expense of new emerging revenue streams, recently scrapped its long-time digital arm, CondeNet, to form a new dedicated digital group with the goal of making online a serious business.
But that must include a growing recognition that doesn't mean a simple swap of print dollars for ad dollars. "Saying we're going to migrate consumers 1-to-1, print to online, is naïve," says Chuck Cordray, vice president and general manager of Hearst Digital. "Customers will chose what they want to do. As publishers, we have to decide if we are going to compete in that media to succeed. Whatever happens in the traditional magazine business, we have to compete in digital as a business."
FOLIO: spoke with digital leaders at Conde Nast, Time Inc, Rodale, Hearst and others about how consumer publishers are trying to make the margins reconcile with market share, and finally turn digital revenue into a winner.
Revenue Parity
Online doesn't have to equal print for mass consumer titles (and is a long, long way off of ever doing so). In 2007, Hearst CEO Cathie Black told FOLIO: she spends about 20 percent of her time focused on digital matters, but in terms of revenue, "digital for us is still the tail wagging the dog."
The cost of selling online advertising is going up. "Digital may seem like a break-even today but it won't always be," says Andrew Armstrong, managing member of Spire Capital Partners. "We're a long way off from serious online revenue from advertising."
"I don't think parity between traditional and digital is what anyone expects," said J. Crystal Scott, president and CEO of TV Guide, at the recent DeSilva + Phillips Dealmakers Summit. "Most magazine Web sites are crap. They're designed by magazine editors in a linear way. Today, it's about consumers taking control. The new TV Guide Web site will be heavy on social networking and user generated content. When its guided and filtered, that's when it makes sense."
While Martha Stewart Living Omnimedia saw digital product revenue decrease $4.4 million in the first nine months of 2008 due to the transition of its flowers program from Martha Stewart Flowers to a co-branded agreement with 1-800-Flowers.com, advertising revenue increased $2.1 million to $8.8 million. "We're looking heavily at digital, including looking at ad-supported models but also paid content," says Joseph Holland, vice president of strategy and corporate development.
Hearst Digital is not quite two years old and prior to its launch, virtually everything was a subset of the now defunct iVillage. "It's liberating to build your own content in a post-Google world," says Cordray. "We've only begun to see growth in these traditional brands online. We're nowhere near peaking."
While advertising is growing at a faster rate, online driving print subscriptions is becoming a significant business for Hearst.
In the strategy for embracing both print and online, Hearst Magazines executive vice president and general manager John Loughlin noted that Hearst has had great success with a growing network of non-magazine-branded Web sites, which in turn drive massive traffic back to the magazine sites. And those sites are helping build a huge e-mail address database that has grown from 3 million to 25 million in 2008. "We feel that each e-mail address is worth 80 cents to our business," he said.
Conde Nast Digital: "Growth-Based, Not Cost-Cutting"
In January, Conde Nast announced it would consolidate its digital assets into a new unit called Conde Nast Digital, effectively eliminating CondeNet, the Web division it launched in 1996.
Conde Nast Digital named Drew Shutte, formerly vice president and publisher of The New Yorker, as senior vice president and chief revenue officer, while Sarah Chubb, formerly president of CondeNet, was named president of the new unit, which includes Epicurious.com, NutritionData.com, Concierge.com, HotelChatter.com, Jaunted.com, Style.com, Men.Style.com, Wired.com, Reddit, Brides.com and Webmonkey, as well as the individual magazine-branded Web sites. Conde Nast CEO Charles Townsend said the realignment was a "growth-based consolidation, not a cost-cutting consolidation."
Conde Nast has a lot of room to grow. According to a recent Advertising Age report, only about 3 percent of its ad revenue came from digital last year, a proportion "topped by nearly every rival, public or private." Late last year, Conde Nast laid off about 5 percent of its staff across both print and online and closed its syndicated blog network and Flip.com, a social networking virtual scrapbooking site for teen girls.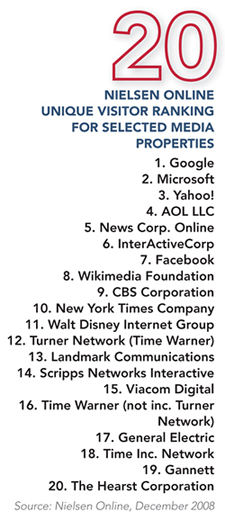 In a sense, the Conde Nast reorg goes back to the age-old (or at least Internet-era old) question of who sells what? Previously, Conde Nast had three to four different working groups involved in digital. The magazine sites were handled as a separate group with a different mission, focused on subscription and sales renewals. Properties such as Brides.com were handled at the magazine level because it was deeply integrated into print.
"When we were looking at consolidating staffing last fall, we were looking to ride it out as best we could because revenues were smaller," says Chubb. "Before 2008, we had three or four years in a row where growth was 30 or 40 percent per year. But with the revenue slowdown, we retrenched a bit."
CondeNet restructured its sales team last summer to take advantage of horizontal ad buys coming along as well as the verticals. "We realized we now have a decent footprint with audience reach and it made sense to consolidate the overall strategy," says Chubb. "When the advertising market starts to come back, this will be a huge opportunity for us."
The Conde Nast Digital set-up features one point of contact on each account. "A year ago we had four people calling on larger accounts like Microsoft or American Express," says Chubb. "If I'm the Microsoft account rep, I can sell across any Conde Nast property and I'm incented for putting together as many packages as it takes."
Conde Nast is also developing what it calls "brand advocates." "For every one of the magazine Web sites with some size, like Glamour.com, which has a few million monthly uniques, there is a person embedded in the digital sales groups who is also the go-to person for the magazine staff," says Chubb. "If a print salesperson says, 'Wow, I can increase this account by twice what the RFP says if I can add digital component,' they would then call the person here and work up the proposal together. At end of day we want money being spent horizontally and vertically."
Making the Margins Work
Early online efforts (and many today) seemed to be influenced by the way these companies traditionally approached print launches: bloated staffs, bloated budgets and miles of red tape. Large publishers aren't known for spending money efficiently; one major consumer publisher recently hired a viral marketing agency to run a campaign for $10,000, which netted just 200 subscriptions (or about $500 a head).
"You can spend $10,000 and get a decent Web site, with transaction capability and get that done by interns," says the head of a private equity firm that invests in small and medium-size publishers. "We've seen different Web development companies that say, 'we'll do this and that and you'll have CMS, SEO and SEM and it will cost you a couple hundred grand.' That's like throwing money out the window. These companies like Hearst and Hachette are spending millions on Web development and we can do basically the same thing for much less."
However, the large consumer publishers say they are moving away from the old print mindset. "In an ideal world, you could have three times as many people selling, and four people dedicated, not one person," says Chubb. "The margins are smaller today and they may always be smaller. The costs to produce a really great Web site are high, particularly the people costs. The cost of sale is often relatively high. On the magazine side—you book a schedule and make sure they have good placement and the pages are beautiful and everybody calls it a day. With online it's different. We were just talking about an account with 15 different pieces of creative and every one of them is going to be optimized from the minute they start running. For a business that's supposed to be automated and run by technology, there's a lot of personal touch. Maybe five or 10 years from now it won't but it probably will. The beauty of the online business model is if you can drive revenue high enough, 100 percent of the revenue drops to the bottom line. With magazines, you can still have a great year but you're printing pages for every extra ad page you bring in. With online, you have to get yourself to a place where expenses are at the right level and revenue is at the right level. The converse of that is if you drop below that level all expenses drop to the bottom line as well."
Chubb says Conde Nast is focused on taking costs out of launches. "In the early days, everything was hand coded. There is now a lot of different technology that is faster, cheaper and more flexible. In the olden days you might have been stuck with three or four tech vendors and they were all pretty big names. Now there's smaller companies and open source. That's why the cost ends up being with the people, you need people who are smart enough to know what to do with it."
CondeNet relaunched Style.com last summer shortly before the fall fashion show and moved from a large, well-known enterprise platforms to a lower cost, lighter weight platform. "We never would have gotten the relaunch out the door on time if we hadn't moved," says Chubb. "It saved us a lot of money in physical cost over time and it will also save us even more money over time because when you need to make a change in the Web site, you need to do it as quickly as possible."
While Time Inc. leads all consumer publishers with digital revenues accounting for 10 to 15 percent of total revenue, that's mainly due to the interactive efforts of Sports Illustrated and CNNMoney. Speaking at the Time Inc. Digital Showcase last year, executive vice president (now COO) John Squires said digital revenue grew by $20 million, driven primarily by SI and CNNMoney.com.
"Profitability has been the number one priority placed on us," says Jeff Price, president of SI Digital. "Digital for the last five years has increased as an overall net contribution percentage. Digital is now in the mid-20s of the overall franchise performance for net income—compared to a point in 2003 when we were losing money. We've contributed significantly to the Time Inc. top and bottom line."
While Sports Illustrated's 2009 swimsuit issue (released last month) was thinner than usual (ad pages were down 33 percent compared to 2008), the franchise delivered a boost online. SI said the bikini videos served on SI.com were viewed 5.7 million times during the first two days the issue went live online, up from 3.3 million over six weeks in 2008. The magazine also produced a dedicated YouTube Swimsuit channel, which produced an additional 1.8 million video views over the first two days of launch. By comparison, Sports Illustrated's YouTube channel in 2008 had 2.1 million views for the entire month of February.
Buying Market Share?
But are consumer publishers buying market share—through acquisition of online companies, participation in online ad networks that may commoditize their inventory, and wild spending—at the expense of margins?
In a recent interview with PaidContent.org, Chubb responded to the disparity of Conde Nast's $104 million in digital ad revenue—representing three percent of total ad dollars—and Time Inc.'s $245 million in digital ad dollars by saying, "The thing is, Time Inc. does things for different reasons than we do, because they're public and we're not. They've been very aggressive about spending online, because they've been so hammered by The Street for not having a digital strategy. If you look at the print and digital mastheads of Time Inc., they have enormous teams of people. I know what magazines cost to run and I'm sure that they are not making any kind of margin on the revenues they're bringing in. They essentially spent their way into that position. We're private and we don't care about The Street. We're trying to build a digital business with real margins."
Still, the time is right for traditional media companies to snap up online startups that can boost their digital presence—and consumer publishers are stilling buying at a time in which private equity money has dried up. "The VCs have crawled into a fetal position while companies like Time Warner are still spending money," said Henry Blodget, co-founder and editor-in-chief of Silicon Alley Insider, at the DeSilva + Phillips Dealmakers Summit. "You can buy all this new media at good terms now. Is this the revenge of traditional media?"
While online transactions slowed a bit in 2008, larger consumer publishers were represented, with CondeNet buying SFO Media and Hearst buying Answerology. "Some of our growth is acquisition," says Time Inc.'s Price. "We recognized that sports is social, so we went out and acquired Fan Nation, which enabled us to engage several millions of sports fans in conversation."
Cordray says he doesn't really view it as buying market share. "Our philosophy is we eye companies that cover online behavior in key categories that we already have expertise in," he adds. "We bought 1Up for a boost with gamers and Kaboodle to serve young women. Our first goal is that these will be profitable, advertising-driven sites. Maybe it's because we started late but our inventory was never controlled by other people. We've never given away inventory with our print purchases, it doesn't make sense for either side. As a digital business with our own P&L, we have our own incentive to maximize pricing. This is a digital business and digital businesses charge for the value they can create."
Rise of Premium Services
While publishers have long spoken of online revenue being smaller but more profitable, it's hard for publishers with six-figure (or seven-figure) print deals to get excited about five-figure online deals. In an article last year on Slate.com's Big Money, Leslie Blume wrote that one media expert estimates that online CPM is worth between one-seventh and one-tenth of print CPM.
However, consumer publishers have realized that integrated programs and premium services that don't rely specifically on advertising are key.
Rodale saw online revenue grow 18.3 percent in 2008 over 2007, while page views and uniques increased 78 percent and 52 percent, respectively. Premium online services drive Rodale's online strategy. "The way we make it work isn't the same as offline in terms of dollars and nickels," says Gregg Michaelson, executive vice president of customer marketing. "We build our digital business mainly for advertising but since we're not just a magazine publisher but also a book publisher and online premium service provider, we've been able to create multiple revenue streams. Because of that, we never really faced the situation of what would we do if ad dollars or if nickels weren't coming in?"
Such services include The Biggest Loser Club, a companion subscription Web site to the NBC reality series The Biggest Loser. Launched in September 2005 by Rodale, NBC and Reveille, the Club features the diet and fitness program followed by contestants of the NBC show but adapted for home use. In January, Rodale launched BLC Mobile, a companion mobile service that allows members to access and update key Club Web site features using their phones.
The publisher is also focused on integrated programs over banners. Rodale has created a "Master the Shift" marketing series for the Nissan Rogue and Maxima that cuts across online, print and events. The campaign features iconic "Masters" in the healthy active space such as triathlete Lokelani McMichael and surfer Laird Hamilton offering training tips and advice through downloadable Webisodes. Ads ran in print from July through December 2008 and Rodale also secured event sponsorships for Nissan. The program generated "millions of impressions," according to Rodale.
"In terms of the revenue piece, we don't go the ad network, low CPM route," says Michaelson. "I would say overall for Rodale, our commerce business, online or offline, creates half the revenue for the company, while advertising is the other half. The beauty of being in this business now is we're not dependent on ad dollars. The goal for 2009 is to grow our overall revenue, not just digital as a larger part of a smaller revenue stream."
In 2008, Wired and Wired.com sold 28 different pieces of integrated business worth "many millions of dollars," according to Chubb. "Eighty percent of these programs were bigger than if we had just been selling one or the other," she adds. "As a percentage, our revenue number is enormous on the print side. I expect it to grow and for us to continue to be a dominant magazine company. I don't think Chuck Townsend is worried about digital being x percent of our overall revenue. I think he's more concerned with growing it by x percent."