Interactive Deals

FOLIO:'s Top Deals of 2007.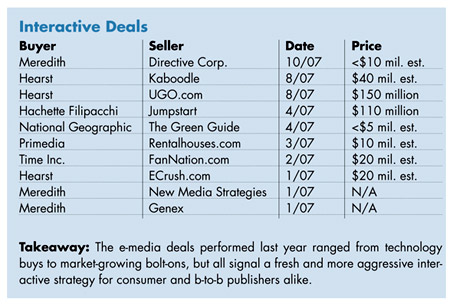 Last year may be seen as the year traditional publishers began laying the groundwork for a more aggressive approach to e-media M&A. A growing number of publishers, primarily consumer according to our tally, made strategic bolt-on acquisitions, setting the stage for 2008 where the outlook includes a busy e-media deal landscape. Of course, "traditional publisher" has already become a misnomer as magazine companies are transforming into cross-platform media companies, but 2007 and 2008 will likely be looked back on as a period where publishers expanded their platforms with a focused and more frequent acquisition strategy in the digital marketplace.
A close examination of the list reveals how publishers are targeting their deals and it's not all about content synergies. Meredith, for example, has been building out its interactive marketing services division, buying three companies to grow its footprint in that area. Hearst is spreading its strategy among content/audience (UGO.com, younger males), social networking (ECrush.com), and technology/ecommerce (Kaboodle). Time Inc.'s acquisition of FanNation.com covers all the bases-technology, social media, content, and it's a platform that fits perfectly into the company's sports assets.
Still up in the air, however, is how these companies are valued-particularly those that are in very early stages of development and have yet to show revenue traction.
COMMENT: "Anything that helps move traditional media companies into online operations and marketing services will be hot."
OTHER TOP DEALS:
Gemstar-TV Guide
ALM
Time4 Media
Advanstar
Ziff Davis Enterprise
Clarity Partners/Modern Luxury
Summit Business Media/Wicks Business Information
Ascend's Divestments
Primedia Enthusiast
Meet the Author
---