Inside the Time 100 Party

Herbie, Downey Jr., SNL cast bring the bling.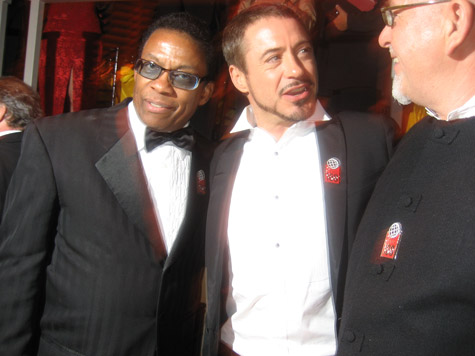 SEE RELATED SLIDESHOW: Inside the 2008 Time 100 Party

Time magazine celebrated its Time 100 issue—like all lists, an arbitrary collection of the "100 most influential people" in the world—with a star-splashed, blingy black-tie ceremony last night in Manhattan.
The annual event is always a surreal experience—not just in terms of who shows up (last night roughly 40 members of the 2008 list were in attendance). The sheer volume of celebrities in one room presents bizarre comingling opportunities that would appear, at least on the surface, awkward anywhere else (Herbie Hancock with Robert Downey Jr.; Martha Stewart with Rupert Murdoch; Murdoch's wife with Arianna Huffington; me with … well, anyone).
As Stephen Colbert put it at the event couple years ago: "This is cool … It's the 100 most influential people hanging out and influencing each other."
Last night's influentials influencing each other included movie and TV stars (Downey Jr., Tyler Perry, producer Harvey Weinstein, 40-Year-Old Virgin director Judd Apatow, the cast of Saturday Night Live including Amy Poehler, Seth Meyers, Fred Armisen, Jason Sudeikis, Will Forte, Kristen Wiig, executive producer Lorne Michaels as well as alums Chris Rock and Tina Fey), athletes (Lance Armstrong), moguls (Murdoch, Martha, Marc Ecko), musicians (Hancock, Peter Gabriel, Mariah Carey), newsmen (Brian Williams), pundits (Bill O'Reilly, Joe Scarborough), neo-geeks-turned-Web 2.0 millionaires (Craigslist founder Craig Newmark, Wikipedia's Jimmy Wales) bloggers (Williams, TechCrunch's Michael Arrington) and one presumptive presidential nominee (John McCain, whose security detail swept the bathroom a full 10 minutes before the senator from Arizona even knew he had the urge to relieve himself).
The evening was just as notable for who wasn't there: Obama, Hillary, Bush, Putin, Pitt, Clooney, Oprah, Springsteen, Radiohead, Agassi, Bloomberg—all of the 2008 list—were no-shows, as were Miley Cyrus, Muqtada Al-Sadr (shocker!) and the Dalai Lama.
The toasts are usually memorable, and last night's didn't disappoint: Armstrong toasted a cancer doctor; Downey Jr. choked and fought back tears while toasting his dad for being there for him at his lowest moment. (Downey Sr. then quipped "You're not my son!")
There's truly no event like this, at least, not in New York. I'd imagine pre- and post-Oscar parties have more firepower, but I'd bet the cast of A-list characters there aren't nearly as approachable.
Still, for all of the party's slick production work and behind-the-scene's effort (think about the logistics of coordinating all of the handlers—and handlers of handlers), the Time 100 issue itself doesn't sell extraordinarily well (last year's sold 124,400 single copies, merely the tenth best seller at the newsstand for Time in 2007.)
In the end, the Time 100 party is simply a million-dollar branding device the magazine hopes will pay off in terms of future access to world leaders, politicians and celebrities—and luxury marketers, like, say, Swarovski, who had a case of crystals positioned at the end of the red carpet.
It's a clubby business to be in. I just hope I get a real seat next year.
Meet the Author
---