Among consumer-facing media brands, Harvard Business Review (HBR) has the somewhat unique mission of aiming to offer its readers insights and best practices to help them run their businesses more effectively.
It was only logical then, when faced with the task of boosting digital readership on its website, HBR.org, that the 94-year-old magazine looked inward for inspiration.
"I would say that the goal was not so much to increase traffic but to increase the frequency of visits by visitors," HBR.org editor Katherine Bell tells Folio:. "That's the really important distinction for us. You can increase the number of people or you can increase the number of times people are coming. To us, we think that second one is more valuable."
To arrive at that conclusion, Bell says the HBR staff used a combination of research, instinct, and an acknowledgment that the game had changed, even since the widespread tech-induced upheaval in the publishing industry entered full swing.
"Pages per session, for example, used to matter, and I would argue it really doesn't matter at all anymore," Bell continues. "Frequency is the one that's held up over time. Someone's not going to come back if they don't like what you did the first time."
In the end, Bell says the staff arrived at a goal of increasing the number of readers who visited HBR.org at least three times in one month. Research, she says, shows that around the three-to-five visit mark, there is a spike in consumers' willingness to either buy something, register with the site, or subscribe.
"The other thing was just the idea that you might be able to come twice by accident through social, maybe not knowing where you were going but just because you were interested in a piece of content, but by the third time, you definitely did that on purpose."
Frequency of visits became an important predictive factor in whether or not a reader subscribed or renewed their subscription (HBR.org allows visitors to access four articles per month before being asked to register for free, and then eight articles a month before being asked to buy a subscription). Attempting to drive increased, frequent traffic to the site was identified as a key link between the brand's strategy of promoting subscription sales while also offering a wealth of free content.
"One big impetus, in my mind, was the launch of the site in November of 2014," Walter Frick, senior associate editor, tells Folio:. "I think frequency was something we cared about and paid attention to before then, but given the new site it seemed like a moment to think about really what is our strategy and what are some things that we can do that we hope would increase frequency."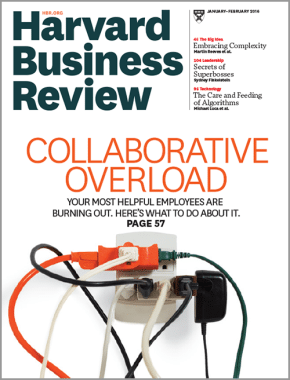 The first part of the initiative involved leveraging HBR's robust library of archived, enduring content and sharing it through the brand's channels on Facebook, Twitter, and LinkedIn, all of which had been identified as major sources of frequent visitors to HBR.org.
"So we knew that social media had to be a big part of it," continues Frick. "Since we were already thinking about the archive as one of the key bits of value for our readers, we decided that we would begin sharing some of our more classic articles, our older content that our readers really liked."
The recirculation of archived content took two forms. Each week, a single, classic, long-form article from the print magazine archives was selected by the editorial staff to be pushed out on social media.
"These were the really big articles we've been famous for for years," says Bell. "Something that, as a manager, you should've read and that's really held up. We would publish these towards the end of the week so that people could read it over the weekend."
Then, each weekday, HBR began promoting stories from its more recent archives, stories that drew particularly high traffic around six months prior.
"It was a nice mix of analytics and editorial curation on top of that," adds Frick.
Both Frick and Bell said the recirculating of archived contents have, by and large, received a warm reception from HBR's social followers.
"We were surprised that people either seemed to not notice or not care at all that these weren't brand new pieces of content. We're lucky in that we publish a lot of content that lasts a really really long time," Bell continues.
It's worth noting that all of this was done in the absence of a full-time social media staff. Instead, HBR's social accounts are run by what Bell calls a "cross-functional social team," made up of members of both the editorial and marketing staffs. The company did bring on a photo researcher, citing research that points to image-adorned articles performing particularly well on social media.
Apart from the archives, another part of the plan to boost high-frequency traffic meant creating content around topics that particularly resonate with HBR's audience. Bell says articles about individuals—careers, professional relationships, communication and negotiation strategy—have generally outperformed articles that speak more to macro-level company-wide or economic issues.
"That doesn't mean that we don't publish on those other things," Bell is quick to add. "We publish just as much as we always have because they're important to us and our readers, but we know that anything we publish will do really well if its about you or you and your team."
Bell says the team decided to plan ahead and produce a series of articles—new, original content—to be deployed once each day for three weeks. That meant identifying new, authoritative voices to enlist as commissioned authors.
With unique visitors to HBR.org up 50 percent in the past two years since March 2014, it's difficult to argue that the initiative has been anything but a success. Moreover, that targeted group of readers who visited HBR.org three or more times in one month was up by 68 percent over the same two year period.
"We do a lot of thinking about ourselves in relation to things that we publish," Bell concludes.
One piece of content in particular served as inspiration, an article in the November, 2015 issue of Harvard Business Review titled, "Competing on Customer Journeys." In it, authors David C. Edelman and Mark Singer posit, essentially, that the rise of digital technologies requires marketers and sales reps to walk customers through every stage of the purchasing-decision cycle, maintaining a near-constant relationship.
"Frequency matters across the board, because people are just used to more frequent interactions with everything," says Bell. "The frequency of interaction kind of builds a habit for your customers and also builds trust, and that leads to them sticking with you over time. We think a lot about our loyalty loop."