Initial Results Are In for GQ iPhone App

Downloads double between December and January, usage metrics in line with print.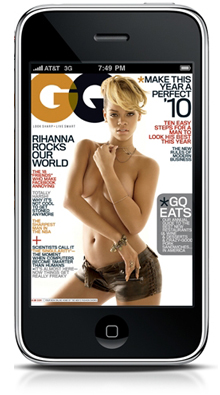 SEE ALSO: Who Cares How Much GQ's iPhone App Made? 
Condé Nast has released download figures for its GQ reader app, first introduced with the December issue in mid November. That issue was downloaded 6,641 times and so far has doubled with the January issue at over 12,000 downloads to date.
There are plenty magazine apps out there, but they tend to be functional offshoots or slices of content. GQ's was notable because it was the full issue and counted toward ABC audited circulation. The app debuted at $2.99 and remained fixed for the January issue, but the publisher said it will offer future issues for $1.99 to returning customers.
These aren't huge numbers for the 930,000-circ title, but the trajectory is going in the right direction. And it's an interesting first step in determining reader interaction and interest in reading full issues on a smartphone. The company said engagement metrics were in line with MRI numbers for the print magazine.
For example, a spokesperson said MRI estimates readers spend 71 minutes with the print magazine, users of the December app spent an average of 83 minutes.
Demographics, said the spokesperson, generally overlap between app and print, with app readers trending younger. The company doesn't yet know, however, how many of the app readers have also bought the magazine through other channels. "This will be a focus of further study," she said.
Magazine issues can be viewed in vertical and horizontal modes. While in vertical mode, users can tap their way through the navigation scheme and pinch and swipe their way through stories and images. In horizontal or landscape mode, readers can swipe page by page, including ads, through the entire issue.
"We have seen the door opened to a different pool of readers through these new distribution channels," said Robert Sauerberg, group president, Condé Nast Consumer Marketing, in a statement. "The digital editions of our brands are on track to provide print-like engagement and we will use our continued learning to create the best business model for future introductions."  
Subscription offers are being considered, said the company—the spokesperson declined to offer any further specifics on strategies.
Meet the Author
---