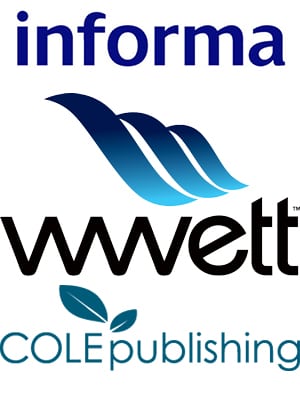 Informa has made yet another U.S. trade show acquisition, purchasing the Water & Wastewater Equipment, Treatment & Transport Show (WWETT) from Wisconsin-based Cole Publishing, both parties announced this week.
Held each February in Indianapolis, WWETT attracts more than 600 exhibitors and 14,000 attendees from 53 countries, according to Cole.
A request for terms of the transaction was declined, but Cole president Jeff Bruss confirmed to Folio: that the show—the only live event produced by Cole—accounted for about one-third of total company revenue.
"A strong seller's market, combined with [Cole owner Bob Kendall's] desire to downsize, were the primary reasons for the sale," Bruss tells Folio:. "The show needed a company that could take WWETT to the next level, and Informa made a proposal that matched our needs."
For Informa, WWETT is only the latest in series of North American additions to the UK-based information firm's exhibitions division over the last two years. Last October, Informa purchased the Florida International Medical Expo (FIME). That move followed similar acquisitions of Dwell Media's flagship event, Dwell on Design, and Hanley Wood's exhibition business—a November, 2014 transaction worth $375 million.
"We will continue to invest in the event in a big way," said Rick McConnell, president of Informa Exhibitions U.S., in a statement. "We at Informa look forward to continuing the legacy that Bob and his team have built over the past 36 years."
Despite the sale, Cole—which publishes nine titles in various water and wastewater-related spaces—will remain involved with WWETT in marketing and show branding for at least 10 years, Bruss tells Folio:, and even though the company no longer owns the significant revenue source, it isn't shying away from diversification.
"We've made significant investments in software, from trade show registration and lead retrieval services to CMS systems for publishers," Bruss adds.
Some of those technological investments are in trade show services, offerings for which WWETT served as an effective testing ground over the last several years.
"Cole will continue to maintain its print publishing roots," Bruss tells Folio:, "but will definitely be looking to expand into cloud-based software services, among other endeavors."