The Influx—And Economics—Of All-Type Covers

They're everywhere—but not as easy as they look.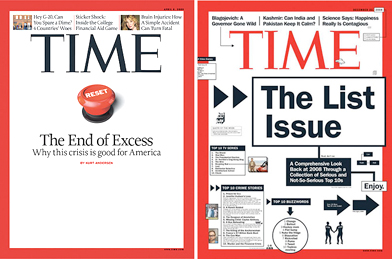 All-type covers are everywhere. Thinking of producing one?
Pros: No photoshoots and the costs associated with them.
Cons: They may not be as easy as they look.
With publishers scurrying to cut costs wherever they can, it's no surprise that the art departments have felt the strain of cutting back on photoshoots and finding creative, low-cost solutions to effective cover art. Increasingly, magazines across the newsstand spectrum—Scientific American, New York, Money, Communication Arts, Strategy and Business, Consumer Reports, Real Simple, Foreign Affairs and Forbes—have gone the all-type route [view a sampling here]. And let's not forget Wired, which wins the award for most type-plus-stock art covers in 2008 and 2009.
The cost savings are clear, with a publication saving thousands of dollars per issue or more, depending on the scope of the celebrity personality or photographer/stylist/handler fees.
I asked FOLIO:'s own art director, Dan Trombetto, to weigh in. He warns: "It's more important than usual that you work with the editor in coming up with the exact cover lines that lend themselves well to an all-type cover." Translation: while slapping some text and stock images on a cover may save you money, it isn't a guaranteed home run when it comes to design and message.
"I'm sure a lot of people think 'oh, this will be an easy cover—I'll just pick a cool font, choose a nice color, and drop my cover line on and I'm done,'" he added. "You can get away with less than perfect typography if there is a really amazing photo on the cover—but with an all-type cover, the photo crutch is not there. All the focus is on that type."
And one successful all-type cover doesn't necessarily lead to another. Trombetto considers "The End of Excess" [above] effective, but he "doesn't care for the type used in 'The List Issue.' The cover is way too hectic and cluttered." In general, good keywords  "that you can focus on" are increasingly important, particularly in choosing a provocative statement, like Esquire's 1966 cover, he said.
Meet the Author
---