Internet Advertising Hits Record $7.3 Billion in First Quarter

That's the highest first-quarter level to date, per IAB.
Internet advertising in the U.S. totaled $7.3 billion in the U.S. in the first quarter of 2011, up 23 percent over the same period in 2010 and set the highest first quarter level ever for the industry, according to the Interactive Advertising Bureau.
"The consistent and considerable year-over-year growth we're seeing demonstrates that digital media is an increasingly popular destination for ad dollars, and for good reason," says IAB president and CEO Randall Rothenberg. "As Americans spend more time online for information and entertainment purposes, digital advertising and marketing has emerged as one of the most effective tools businesses have to attract and retain customers."
The following IAB chart shows quarterly ad revenue going back to 1999. Dollar figures are rounded.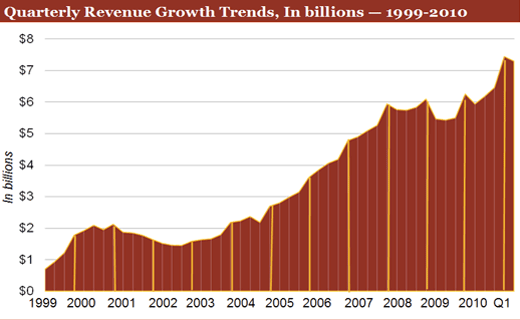 Meet the Author
---