Industry Dive

A mobile-first launch developing content for specific markets.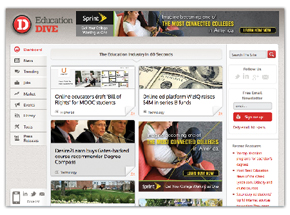 Industry Dive, a mobile media startup serving a variety of b-to-b market verticals, launched in early 2012 with about $400,000 in angel funding.
Founder and CEO Sean Griffey was previously president of FierceMarkets, a division of Questex Media and a company with a somewhat similar vertical market approach to Industry Dive.
Industry Dive targets b-to-b executives exclusively through mobile platforms, a concept that Griffey has said traditional b-to-b media companies have largely failed to capitalize on. "Executives are increasingly mobile, and if you think about your phone there are parts that encapsulate different parts of your life—sports scores and travel, for example. But outside of email, there is no place that says, 'this is my job.' That's what we're trying to address."
The company now has seven vertical mobile sites launched, including education, food and beverage, utilities, marketing, construction and waste and recycling. A partnership with Sprint in January helped launch Retail Dive.
The company spent its first year mainly building a proprietary back-end that allows it to quickly launch new vertical sites and has even begun licensing the platform to other b-to-b media companies to help them launch their own mobile efforts.
Content is both curated and created by Industry Dive, with news, stocks, social feeds and other elements fed into dashboards and mobile optimized websites. The company also offers newsletters optimized for mobile.
An early strategy to focus solely on the mobile web to optimize development resources has now given way to market demand for apps. "We made a conscious decision to build mobile optimized websites and to stay away from apps," says Griffey. "We rightly felt that the development time would be faster, cheaper and easier with the mobile web, which would give us a better chance to learn about our audience's mobile usage. While this was a great approach for us initially, we soon ran into a discovery problem. Our audience repeatedly told us that they were trying to find us in the app stores and couldn't. We are rolling out apps now in part to solve this simple problem."  
The revenue model is primarily ad-driven, but Industry Dive has expanded into mobile content marketing services for brand-side marketers. "It gets a b-to-b marketer's attention when you can illustrate the number of leads they are missing by not having mobile friendly campaigns and products."
PROGRESS SO FAR…
Since raising $400,000 last year in angel funding, Industry Dive has built out mobile content serving seven market verticals.
Meet the Author
---