Industry Dive Raises $400K in First Round

Startup by former FierceMarkets president targets the mobile b-to-b market.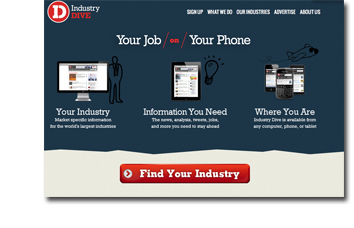 Industry Dive, a startup media company serving a variety of b-to-b market verticals on the mobile platform, has just secured $400,000 in angel funding. Founder and CEO Sean Griffey says the capital will be put towards further product development and audience growth.
Griffey was most recently president of FierceMarkets, a division of Questex Media and a company with a somewhat similar vertical market approach to Industry Dive. Griffey left the company last December to commit to his startup full time.
The round came from a group of Washington, D.C.-based investors led by Cal Simmons, who heads up The Dinner Clubs, an early stage venture capital firm based in D.C.  
Industry Dive targets b-to-b executives exclusively through mobile platforms, a concept that Griffey says traditional b-to-b media companies have largely failed to capitalize on. "Executives are increasingly mobile, and if you think about your phone there are parts that encapsulate different parts of your life—sports scores and travel, for example. But outside of email, there is no place that says, 'this is my job.' That's what we're trying to address," he says.
The company has already rolled out five vertical markets: Construction Dive, Utility Dive, Education Dive, Waste Management Dive and Marketing Dive. By the end of the year Griffey plans to have 12 verticals launched.
Content will be both curated and created by Industry Dive, with news, stocks, curated Twitter feeds and other elements fed into dashboards, apps and mobile optimized websites. The company will also offer newsletters optimized for mobile.
Revenues will be largely ad-driven. "I believe ad models can work online and I think they can be particularly powerful in mobile," says Griffey. As the platform matures, he adds, lead generation will become another revenue stream.
Meet the Author
---