Industry Dive Expands Education Vertical with App Launch

25 percent of traffic to the main HTML site now coming from mobile.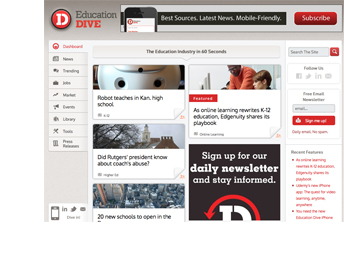 Industry Dive, a mobile content focused b-to-b media startup, has launched a dedicated app for its education vertical, called Education Dive. The brand already has a mobile-optimized site and newsletter, but the app, in response to a pattern many publishers are now recognizing, was built in response to the increasing number of visitors from the mobile platform.
"Every quarter, mobile engagement has increased in Education Dive," says Industry Dive CEO Sean Griffey. "We are now seeing over 25 percent of our web traffic is mobile, and almost 50 percent of emails are opened on phones."
The niche factor that content publishers have long been able to exploit as now moved aggressively into the mobile arena, where marketers want to reach consumers but still have few outlets specifically designed for the platform. Industry Dive, says Griffey, was created especially for mobile content publishing.
Sprint has signed on as launch sponsor for Education Dive, which is now one of seven verticals Industry Dive serves, including food, retail, construction and waste management. The app is available on iOS and Android.
Sean Griffey is also a featured speaker at FOLIO: and min's upcoming event MediaMashup in New York on April 16. For more information and to register, visit the MediaMashup site.
Meet the Author
---