UPDATE: Indie Magazine Asks Readers for $20,000 by July 1

Or it 'will die.'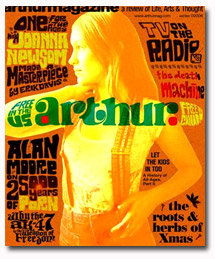 UPDATE: It appears the magazine got the cash it needed.
Arthur magazine is almost dead.
When logging onto the self-proclaimed "transgenerational global counterculture" music magazine's Web site today I was redirected to a page asking for a monetary donation. Arthur, according to the page, "will die" if it doesn't raise $20,000 by July 1.
In a note posted online, Arthur editor/owner Jay Babcock indicated that after buying out his ex-partner and relaunching the magazine about a year ago, he "maxed out" his personal and business credit cards. Like other struggling publishers, Babcock attributes Arthur's financial woes to lower than expected ad revenues and increased production and distribution costs.
"We have worked very hard with very little resources: some of us could afford to work pro bono, others could afford to work at well below market, still others couldn't afford to work for Arthur but did it anyway," Babcock wrote. "Still, we have bills to pay, and debt to service. Starting up again costs money. And my credit cards are now maxed out."
Launched in 2002, Arthur is a free bi-monthly magazine distributed in various places like record shops, used bookstores, coffeehouses and art galleries. As of this afternoon, they apparently had collected $15,600.
Arthur isn't the first to extend a hand to readers to help pay the bills. Following last July's shape-based postal rate restructuring, The Nation, a political weekly with a circulation of 181,070, saw its rates go up 18 to 20 percent—and turned to subscriber donations to remain in business.
It's a shame, and disheartening, that Arthur, like many well-respected magazines, finds itself in this predicament. While I'm not intimately familiar with the magazine's specific financial details I can only assume that it would have been beneficial to give itself more than about a week to raise $20,000.
I guess time will tell if Arthur survives. The clock is ticking.
Meet the Author
---