Incoming Playboy CEO: 'I Believe the Magazine Will Come Back'

A FOLIO: Q+A with Scott Flanders.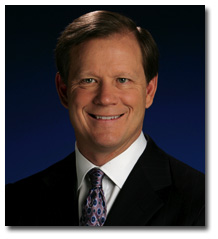 Last week—a little less than six months after Christie Hefner, daughter of founder Hugh Hefner, stepped down after a 20-year run as CEO of Playboy Enterprises—the company appointed Scott Flanders as its new chief executive.
The current president and CEO of Irvine, California-based media company Freedom Communications, Flanders will transition into his new role at Playboy on July 1.
Flanders recently spoke with FOLIO: about his appointment and what he hopes to accomplish by taking the helm of a company—and magazine—during a pivotal time in its history.
FOLIO:: What's the first goal you'd like to accomplish as CEO?
Flanders: There isn't one thing that I want to accomplish first. One of the things I'll be doing early is traveling internationally to meet with our key licensees. Playboy's fastest-growing and most profitable segment is its licensing business. Getting up to speed on the opportunities and challenges associated with those key external relationships is something I want to do early on.

FOLIO:: During the Playboy's last earnings call, interim CEO Jerome Kern said the company was eying "radical" changes to the print business model. What are your thoughts about turning that portion of the business around?
Flanders: I'm a big believer in print—particularly the viability for glossy magazines. That reader experience can't and won't be duplicated online, even where I see the reader technology moving.  What Playboy is confronting is an advertising recession. Playboy is having to shrink to grow in the future. I don't believe the magazine has lost its relevance. It's the largest read men's magazine in the world, including the Web site that generates over three million unique visits per month and almost 50 million page views. I believe the magazine will come back.
FOLIO:: In February, when asked by an analyst if the company would consider a sale and/or changes in its strategic direction, Kern said the company was "open to discussions." Is Playboy in fact open to sale talks?
Flanders: Some of the media coverage was unfair to Jerry [Kern]. What he said is what the CEO of any public company must say. It's their fiduciary duty to entertain any proposals that come that could be of benefit to the shareholders. It was reported in a way that the company seemed as though it was back on its heels.
FOLIO:: So, then, is Playboy on the block?
Flanders: The company, as a policy, does not comment on "rumors."
FOLIO:: What are Playboy's biggest challenges and opportunities through the end of 2009 and into 2010?
Flanders: The biggest immediate challenge is that we have to ride through this consumer/retail recession that directly impacts advertising spending. As licensee revenues are hit, so are Playboy's very lucrative licensing royalties. This period right now is one of trying to maintain as strong a profitability as possible given these factors.
The biggest opportunity going forward is to fully exploit the brand's potential outside the U.S. While it's been very successfully pursued by the existing management, I'm hoping and believe that there are more opportunities.
FOLIO:: What about your experience at Freedom Communications, and elsewhere throughout your career, has prepared you to serve as chief executive at Playboy?
Flanders: I have operated in the media business my entire career and have taken on situations with businesses in transition. Everywhere I've gone I've been a change agent. In 1999, I joined Columbia House, which was a $1.5 billion marketer of music and VHF tapes right before Napster was released and DVDs emerged. We had a business that was over 50 years old, that started in the same timeframe as Playboy, that needed to migrate into the new model, including online. I think that singular experience is most analogous to the opportunities for Playboy.
Meet the Author
---