Magazine Publishers Make Inc.'s 5000 List

Journal Publications, BZ Media ranked; Red 7 Media is 'fastest growing.'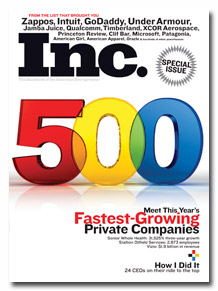 In conjunction with its September '500' issue, Inc. magazine has released its second annual Inc. 5000 list of the fastest-growing privately held companies in the U.S. and, for the second consecutive year, Red 7 Media, FOLIO:'s parent company, ranked first among magazine publishers.
Red 7 Media placed number 24 in the Media category, which includes online companies and video game makers, and number 1,805 overall.
"It gets tougher every year to make this list, but it's an honor to be recognized for our achievements," says Red 7 Media president and CEO Kerry Smith. "Being named the fastest-growing in our category for two years in a row is a reflection of the hard work, dedication, and passion that our people have for serving their markets."
Companies on the 2008 Inc. 5000 list are ranked according to percentage of revenue growth from 2004 through 2007. Qualifying companies are required to have been founded and generating revenue by the first week of 2004 and must be U.S.-based, privately held, for profit, and independent—not subsidiaries or divisions of other companies. A company's revenue in 2004 also must have been at least $200,000, and 2007 revenue must have been at least $2 million.
Between 2004 and 2007, Red 7 Media's revenues grew more than 200 percent, from $4.5 million to $13.9 million.
The next fastest-growing magazine publisher on Inc.'s list is Pennsylvania-based regional publisher Journal Publications (ranked 2,578 overall), which saw its revenues grow 141.7 percent over the three-year period to $11.9 million. Alabama-based trade publisher Cahaba Media Group (ranked 2,977 overall), saw revenues grow 120 percent to $4 million.
Other magazine publishers on the list include: School Family Media, BZ Media, Next Step Publishing, EH Publishing and the Mikel-Brock Investment Group, which publishes real estate and automotive magazines.
Also making the list this year is digital publisher Nxtbook, which ranked 303 overall. The company's revenues increased 922.4 percent over the period, reaching $4.6 million in 2007.
Topping Inc.'s list overall is special needs health insurance company Senior Whole Health, which posted $147.4 million in revenue in 2007, an increase of 31,525.4 percent over 2004. San Francisco-based Delivery Agent—an e-commerce platform to sell products seen on television programs, movies, sports and music videos—ranked number one in the Media category.
Mansueto Ventures-owned Inc. magazine unveiled the 5000 list last year, which the magazine expanded 10-fold from its annual Inc. 500 list. A few months later, Mansueto Digital launched IncBizNet, an online networking site open to all private companies, and which Inc. 5000 companies are members.
To see Inc.'s full 5000 list, click here.
Meet the Author
---