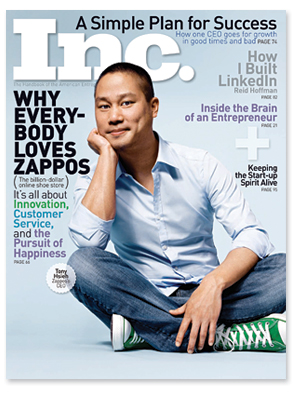 For the month of February, the Inc. magazine editorial staff is going to run an experiment on the virtual workplace with all editors working from home.
According
to senior writer Max Chafkin:
"To prepare, we've talked to experts in the field of organizational behavior and entrepreneurs who believe in virtual work, such as WordPress founder Matt Mullenweg and 4-Hour Workweek guru Timothy Ferriss. The reporters and editors have taken surveys on our work habits, downloaded new applications onto our computers and smartphones, and created checklists to help us collaborate even when we won't see each other face to face as we normally do. Most of us will be working from home offices for the month of February. The rest will be scattered among hotels, co-working spaces, and the occasional laptop-friendly café.
As the experiment progresses, we'll be blogging about our experiences here on a regular basis. We also plan to post video interviews with experts and consultants who study virtual work. Then in the April issue of the magazine, we'll publish a definitive piece on virtual work-a look at pros and cons of running a highly-dispersed team (namely, ours), plus, tips on how to work virtually that any start-up or small business can use."
A New Reality For Other Publishers?
While Inc. is experimenting with the virtual office as a way of relaying its experience to its audience of small business owners, it's hard to find any publisher who doesn't have at least a few staffers commuting from the "virtual workplace," whether it's an editor cross-country, a freelance designer or a remote sales rep.
A few years ago, Nielsen Business Media encouraged staffers to work from home and even developed a plan in which each staffer would have a laptop while central docking stations would do away with cubes at the office and allow employees who had to come in for meetings access to the network. Nielsen never went as far as creating the docking stations although recent rumors have emerged that the company has advised the editors of its remaining magazines to start working from home (something a spokesperson denied).
However, as publishing staffs grow smaller while companies are still laboring under multi-year leases that don't look so attractive any more, the results of Inc.'s experiment could have particular significance for the magazine industry. Stay tuned.