The Improper Bostonian, a regional lifestyle magazine, closed its doors on Thursday after 28 years in print.
"While this news might be surprising, the company has had a great run and we're hopefully leaving this incredible city better and brighter since our inception in 1991," said CEO and publisher Wendy Semonian Eppich in a statement posted on the Improper's that followed with a long list of thank you's to readers, staffers and clients but didn't give any indication as to why the decision was made.
However, she explains to Folio: that "it was ultimately a family decision, that was really the bottom line. It was was heavily based on finances, but it goes bigger than finances and that is critical and that is the truth. I said on Bloomberg radio that by dad is 87 and what you don't know is that this isn't something that I wanted to do long term."
Editor Matt Martinelli posted on Twitter that "While the owner's decision to close was multifactorial, it was not really because of a decline in print readership, as no matter what, the newsboxes were mostly empty every two weeks." He also confirmed with Folio: that the circulation had been cut by 10,000 this year, but the decision to do that wasn't because there were that many unsold copies;  management had just been looking for ways to lower print costs.
"For a little while now, they've been operating at a loss and things would be done around the edges—a cut here or there," he says. "You do that with the expectation of saving X-amount of dollars, but then the price of paper skyrockets."
As of Dec. 31, the 24 issues/year magazine had a total circulation of 70,626, according to the Alliance for Audited Media. Of that, only 175 were paid and verified subscriptions and the rest were distributed through local Boston newsboxes or in retail locations. For those that had subscribed, the magazine offered first- and third-class subscription models at $75 and $29.95 annually, the former coming to subscribers' mailboxes the week of publication and the latter arriving a few days after the release date.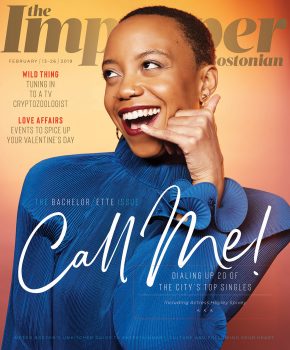 "We weren't losing print readership except of our own accord when we cut circulation to try and save money," Martinelli explains, "but ultimately, we would have had to do more digitally—and we should have been doing more digitally for a long time—but it would have meant more of an investment, and investment when you're operating at a loss isn't the best."
He continues that there were other ways that his team considered reducing those printing costs, such as no longer being paperbound and instead having a staple in the middle, but there was "a real hesitance to change the quality of the magazine" by the owners. There had also been proposals to lower the frequency of the magazine, but they were not approved at the management level either.
Semonian Eppich says that her and her father's goal was to leave the magazine at its peak when they made the decision to close it. "Think about all of these publications that limp out the door, their paper stock is now newspaper, they've cut the magazine in half, half of it is on digital–there are so many things you could do to kill everything it was. Why not just celebrate it and close the doors and leave on the highest note possible?"
Martinelli says that there had been discussions about moving to an all-digital format to save on print costs all together, "but a business can't be run just off impressions on digital display web ads," he says. "You can employ maybe half a person. The return on that is so low with Facebook and stuff like that."
Top editor position since August 2017, he joined as its managing editor in 2013, and is one of eight full-time staff on the editorial-side in addition to the dozen in-house staff on the business-side, which doesn't include the dozen or so other freelance writers who he says have contributed to the magazine for years—some since its launch.
He also said that while it was not publicly announced, there had been conversations around looking for new ownership. But based on what he was told, one potential buyer that got pretty close to closing the deal, ended up falling through earlier this week.
"They were pretty quick at that point to pull the plug," he says. "They made the decision to close on Tuesday and they informed the staff on Thursday morning."
Semonian Eppich, whose brother, Mark Semonian, founded the magazine in August 1991 and served as its CEO until his departure in 2000, took over as publisher in 2003.
"In the grander scheme of things, you sometimes make decisions in a family business that aren't always fully based on what you should or need to be doing in business," says Semonian Eppich. "Families make emotional decisions; there are things that happen in family businesses that affect families and families have reasons that are grander than all of the very important business details."
The magazine has remained under family ownership since its launch and covered everything from food and fashion to arts and entertainment. It also featured several nationally known cover stars with ties to Massachusetts, like actress Mindy Kaling, Olympian gymnast Aly Raisman and Patriots head coach Bill Belichick.
The editorial team had been working on what was supposed to be the next issue featuring actor Jason Mantzoukas, which Martinelli says had already been shot in-house and was nearing completion. However, Thursday became the staffers' last official day and they were all given a week's worth of severance.
"I hope we offered something good to the city in the time that I've been there and hope people saw the value in what we did and what we covered," he said.
This article was updated on Sunday, April 28, 2019 to reflect comments from CEO and publisher Wendy Semonian Eppich.
I've been walking into @theimproper office since 2012. Like a lot of print magazines, we did a lot with a little. So proud to have been a part of this very talented, scrappy, resourceful team #ontothenextone https://t.co/Cx6IbkeU3r

— Sarah Hagman (@sarah_hagman) April 25, 2019