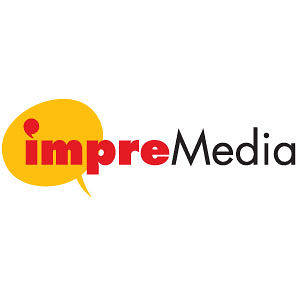 Multiplatform Hispanic media publisher impreMedia posted a 31-percent year-over-year increase in Web traffic across its stable of titles, according to comScore. The company now reaches a total audience of 12.3 million nationwide, which is up from 9.4 million in 2012.
impreMedia publishes a variety of titles, including daily, weekly and pureplay publications. On top of its Web growth, the company also expanded its circulation within some regional markets by nearly 30 percent with some brands.
The Bigger Picture
impreMedia's success last year is representative of a larger trend within the Hispanic segment. That is, the market is growing faster (in population and revenue) than most others, and has been steadily for about a decade. It's also important to consider that the segment growth is happening across every sector of media, thus making the 50-million plus Hispanic population impossible to ignore.
Last year AdAge reported that U.S. Hispanic media spending nearly tripled within 10 years and in 2012 it reached $7.9 billion. And Internet advertising accounted for nearly a half billion.
Understanding the Audience
Although differences in culture and language may seem like a barrier in connecting with a Hispanic audience, there are commonalities in tastes and behavior that publishers can build on.
For example, according to AdAge's Hispanic Fact Pack, the advertising clients for the segment are, in many cases, the same major players you'd expect to see with non-Hispanic brands–Proctor and Gamble, General Mills and Kraft Foods. The report also suggests that is one of the major changes over the past 10 years, primarily due to marketing shifting from a foreign-born to U.S.-born audience.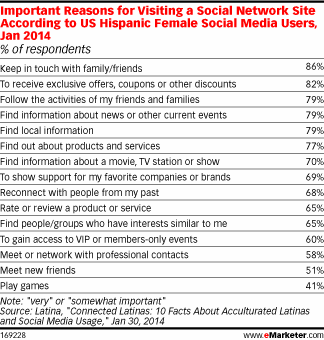 The Hispanic consumer is also savvy on social media and places a great deal of trust on social sites, especially when compared to other consumers, according to a recent study by Latina Media Ventures.
The study surveyed Hispanic readers of Latina magazine who were either born in the U.S. or who have lived here for more than 10 years.
Keeping in touch with family and friends was considered to be the most important reason for using social media according to 86 percent of respondents. However, 79-percent said social was an important resource for news and learning about current events.
Live engagement through events has also proven to be an effective way to tap into the Hispanic market. Several publishers like People en Espanol and Siempre Mujer have continued to expand their event portfolios with music festivals and other live events. Not to metnion that the largest festival in the U.S., Calle Ocho, is a multibrand sponsored event that attracts more than one million attendees each year.
…
Despite the promising growth trends within the segment, the audience is fragmented just like any other, meaning there are differences depending on demographics and psychographics. In other words, like with any other audience, there is not a one size fits all marketing solution to penetrate the community. Still, the trend is clear that this audience cannot be ignored, and there is little reason to believe the progressive trends will be reversed.