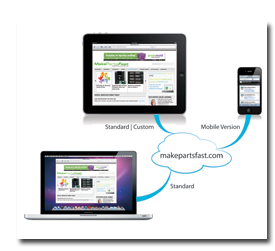 Mobile advertising in the United States by several estimates will reach a total of $5 billion in 2015. While a large share goes to b-2-c publishers, the trend represents opportunity for b-2-b publishers as well. The proliferation of smart phones and tablets with the consumption of applications lends to the advertising opportunities and its growth. 'In-App' purchases shows great commerce possibilities and tablets are fast becoming a preferred tool for sales presentation.
A tablet device or smartphone can be loaded via an app or direct custom website, with company brochures, product configuration and contain immediate feedback to send data back to the home office for processing. In the engineering space, these devices can monitor and pull back data from the factory floor or individual machine or point source monitoring. So with all the potential (and potential for confusion) here are a few tips on implementing a mobile strategy especially if your just now evaluating your mobile plan. The following explores a tactical approach to implementing your mobile strategy by looking at your websites, smartphone apps and QR codes.
Mobilizing your Websites
One of the first area to address with your mobile strategy is with your current web site. Depending on your site platform(s) and content, this process is relatively simple. As a visitor arrives on your site, you can install code that reads the agent of the visitor. The agent is basically which web browser, spider or otherwise is hitting the site. If the agent is a web browser associated with a mobile device, a re-direct to mobile content can be implemented. While the web browsers on smart phones continue to get better, the real estate presents the limiting factor. So while on the iPhone a standard website may look good, browsing, clicking and zooming to find can present challenges. In addition, Flash based advertising will not display correctly on iPhones and iPads and certain javascript functionality can be compromised. Video is another important consideration, as the video itself must be coded to be mobile friendly or potentially your video will not playback properly on certain mobile devices. Many 3rd party providers that deliver video will have smart delivery of sort to ensure that if the agent is mobile, as mobile version, both size and codec, are delivered versus video delivered to a PC.
On some site platforms such as WordPress and others, there are plug-ins that can be installed and configured to add custom CSS styling to site content and strip out most everything except for main post entries and simplify the navigation menus for easier mobile browsing. The plug-ins detect the agent and automatically displays the mobile style and framework. This makes for mobilizing a site a very simple process.
For other platforms more custom css and coding strategies maybe needed to do a clean mobile conversion. The Design World site was built custom on .NET / C# and in our case presented substantially more work to do a clean mobile version in parallel to the main site development. In this case we build a stand-alone site (m.designworldonline.com) for mobile content. This also provided more control in cross linking other site content and custom advertising options. On special campaigns or product launches, a mobile microsite is very effective as the site is build basically from the ground up to be optimized for mobile devices. Overall the open source communities have provided an abundance of good mobile tools and plug-ins to ease the mobile conversation process.
The challenge with mobile re-direction is with devices such as the iPad, directing to a mobile version of your site might be sub optimal, as the real estate and function of a tablet is a much different experience. Fortunately the agent varies slightly on tablet devices and code on a site can direct a tablet browser back to the main site, or even another custom coded site specifically for tablets.
App Versus Site?
There are multiple versions of your website to accommodate mobile users, smartphone applications bring up even more considerations. With Design World Magazine and network of over 25 websites, we decided an app would be an excellent way to aggregate select content from across many sources. In early 2010 we surveyed our audience and BlackBerry devices came back at the top of use list and the decision was made to start there first. We then contracted with a developer that ended in a compete failure based in large part on the complexity in app creation for RIM devices. The proliferation of different RIM devices and different programming requirements for the devices convoluted our efforts. In addition the developer indicated they could program for Apple iOS and the Android platform, so there was some level of distraction.
From our first setback, we took a quick look at the market and decided to hit the iPad / iPhone first. The decision was based on where things were going versus the past behavior, and also at the advantage of the touch capabilities and real estate of the iPad. We also decided to just focus our efforts on one platform going forward at a time. Developing for multiple platforms was simply a resource issue, and doing one at a time made more sense as a start. When we started we did not anticipate how high the iPad consumption would be, but then no one did. To date Apple claims over 15 million iPad have been sold. We also decided to do a + App, meaning it would run native for both iPad and iPhone. In the end, our early mistake proved to be a good decision and enabled us to make the right bet with the iPad app development project.
Further, we decided against a digital version of the print magazine (PDF conversion of pages) for several reasons. Our research (and others) shows that users consume digital in a vastly different way that in print. So the psychological engagement of picking of the print magazine and browsing articles does not translate to well to the digital space. We also produce content daily and did not want to limit content to a single, outdated update every month. The whole idea of online content is timely, relevant and interactive – meaning you can read, watch video, save for later, comment on a post and share digitally across your preferred social networks. You can do many of these things in principal with page-turn digital editions, but the navigation, layout and timeliness is the overriding disadvantage.
WIth the Design World + App we decided on a 3rd party (Mutual Mobile) team as we lacked the appropriate coding experience internally and Apple has a fair amount of requirements on optimizing applications for audio and video streaming over cellular networks, functionality and other features that we needed guidance on from an experienced team of programmers. Internally we have enough software development expertise to manage the process, but this too can be challenging in writing the specification and keeping features locked in a schedule. Otherwise feature creep will kill deadlines and budget.
While managing our ipad app, in parallel we also internally decided to build our own app for our community site, www.engineeringexchange.com The platform for this site uses a public API (application programming interface), so data can be passed to and from the site via the API. In conjunction with another SaaS site, we were able to spin up a lightweight App for the iPhone using the EngineeringExchange API along with feeds form the site around blog posts, forums and video. So we were able to give members the ability to log into their accounts, update their status and blog post from their iPhones. It took three submissions to the App store to get approved, thereby validating our decision to use an experienced 3rd party on the iPad App. However, we were able to mitigate a rather large expense while continually build a better user experience and capture some intellectual capital.
To contrast, the Engineering Exchange App took a total of 2 months, a fair amount of fixed overhead and a minimum monthly fee to launch and maintain. This also based on having the API and many RSS feeds ready to roll into the app to use as the conduit for data transfer. The Design World + App took over 7 months to develop, lots of project management time and so far over $25,000. This is just for version 1.0 and version 1.1 is under development. As we look to Android and now Microsoft devices, its apparent there is substantial fragmentation but also opportunity. The costs for a publisher to produce apps starts to look overwhelming, but key is evaluating your user base and possible advertising opportunities. For now, we are on the sidelines with Microsoft and Android is an important player, but code developed for the iPad is not very portable to Android 'Honeycomb' apps. The notion of HTML5 may alleviate some issues, but its hard to see convergence anytime soon. HTML5 promises the idea of "develop once, distribute to many" and HTML5 has very media rich features to produce app-like native performance from a web based protocol. Apps however are firmly entrenched and offer performance advantages, offline advantages and act as a kind of 'pay-wall' (for paid apps) that a lot of publishers are seeking.
QR Codes
Print is a key part of the Design World mix and the efforts of mobilizing become apparent when considering Quick Response (QR) code use and integration. A QR code is a two-dimensional bar code developed in 1994 and their use is on the upswing. Designed for dedicated QR readers, QR codes can also be read and processed easily with mobile cameras and an QR code reader app. Its a perfect fit then for print integration where a reader can simply take a photo of the code and be taken to a specific website, app, video, contact information or utilize location-based technology for various purposes. Mobile content is key to provide if using QR codes as a majority of those devices are smartphones. Tablet cameras and apps bring up the same issue mentioned with mobile versus non-mobile resources, but again correctly coding for the agent can help optimize the user experience. Design World Magazine has rolled out QR code integration in print on featured content that links directly to mobile versions of those articles online. QR codes can easily be generated through many online paid and free services.
Putting QR codes into print required some workflow modifications. First we had to ensure timing of online placeholders for featured print content prior to the print deadlines. Internally we developed a tool to auto- generate a QR code based on URL input. The system would also generate a short URL along with the QR code. The QR graphic itself could then be auto-sent to production for inclusion into the print article. We include the short URL with the QR code for our audience that may want an online reference, but do not have a smartphone or QR reader. We also tested a lot with the size of the QR code. The initial outcome was 1.5" x 1.5", but found that most QR readers, we could reduce down to about .75 x.75. There is a fair amount of tolerance in QR codes which makes them ideal for this process.
By including a clean mobile friendly version of your website and smart re-direction based on agent is the overall foundation of any mobile strategy. Custom stand-alone mobile specific sites can be key for product launches, promotion and contests. Looking at applications across various platforms if they fit your business model is essential as the technology is moving fast on this front. Finally, if print is still part of your mix, utilizing QR codes can bridge print to online in an efficient way.
For WTWH Media, delivering a mobile strategy is a must have for remaining relevant to our users. With a solid mobile strategy all publishers can offer users content on their terms while providing advertisers new opportunities. Its no wonder special services are becoming important to publishers as many customers need more expertise and guidance through these fast emerging technologies. The more publishers can reduce risk for the advertiser and help guide them in best practices, the better the user experience and everyone gains. A solid mobile strategy will pay off in the both the short term with immediate growth opportunities while being optimally positioned for new developments in software, hardware and processing power on next generation mobile devices that more and more people favor as their primary network device.
Marshall Matheson is SVP of online media at WTWH Media.