Image-Tagging Company Stipple Raises $3 Million

Service attaches data that stays with image as it's shared across the web.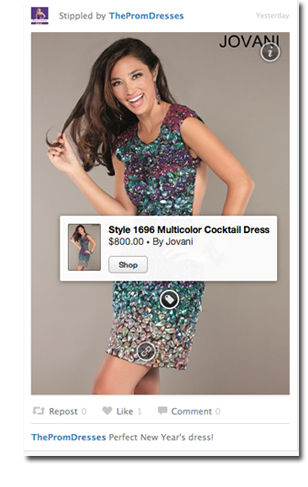 Images are one of the most sharable formats across the web, but the data associated with those images gets lost each time they're shared from one platform to another. Stipple, which just received $3 million in the second part of a series A round, plans to expand its service, which allows publishers, marketers and users to tag images not just with author attributions, but social and e-commerce calls to action.
To get a sense of what Stipple does for images, founder Rey Flemings offers this scenario: "You pull out your cell phone and take a picture. At that moment, your phone knows where you are, the time and location and saves this information to the file. You upload the image to Facebook and does that information stay with the photograph? No."
Flemings cautions that Stipple is not a DRM solution—"We're not a photo cop company"—but the service does do more than simply provide sticky attribution tags.
Publishers and marketers are using it to provide mouse-over callouts to social share tags and e-commerce capabilities as well. Whether an image is used as entertainment or as a marketing or commerce prompt, Stipple remains neutral, but its revenue is generated from the marketing and commerce-oriented initiatives.
Image content is monetized in two ways, through affiliate deals where clicks on a "shop" tag are paid out, or through straight advertising campaigns that marketers initiate through enticing viewers to like a brand tagged in the image or click through to a video. Revenue shares are split 50/50, says Flemings.
So far, Flemings says Stipple has 100 million tagged product images in its database. The company claims it's tagging 1 million photos per day, with brands such as Nike, L'Oreal, Zappos and Nordstrom using the service. When a publisher uses those images on its website, the affiliate payments begin as visitors engage with the photos.
And since the introduction of Twitter Cards, which allow publishers to embed rich media "cards" in their tweets, including a tweet-sized photo card, Flemings says publishers can tweet a photo instead of a static link, and Stipple's API carries over the embedded callouts in that photo. "Photos can contain teasers, be shoppable and so on, and now all of those can be used in Twitter."
Further, Flemings notes engagement rates with Stipple-tagged images far surpass standard display ads. "The advertising model today is based on interruption," he says. "Publishers provide their content for free and users tolerate being interrupted by an ad as part of the service. And the engagement rates with those ads continue to plummet, which is forcing marketers to be even more interruptive."
Stipple-tagged photos, Flemings counters, average 78 mouse-overs and 35 clicks per thousand—rates that translate to 7.8 percent and 3.5 percent, respectively. "Our business model is very simple," he says. "We don't spam people and we put accurate information in photos. We protect the social contract with people, which has allowed us to get these engagement rates."
Stipple's latest financing came from Sands Capital. The company previously raised $5 million in the first part of its series A round and $2 million in seed capital in 2010. Other backers include Kleiner Perkins Caufield & Byers, Floodgate, Relevance Capital and Justin Timberlake. 
Meet the Author
---