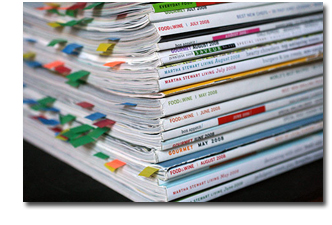 Controversial. Insightful. Entertaining. True.
One of the best parts of covering magazine publishing and interviewing the industry's most influential players is getting that nugget, that one quote about some important issue that stands out—leaps off the screen as any one or more of the descriptors above.
And, thankfully, there have been a lot of them. Now that we're well past the halfway mark in 2010, I looked back at all our stories since the beginning of the year (or at least as many as I could) and collected several quotes that stood out most to me over the months. (Let me know if I missed any…)
Here's the list, in no particular order. They're all worth revisiting, and I hope you enjoy them as much as I do.
"There's no getting around that display advertising on the Internet is going to be no one's salvation." –Meredith Corp. National Media Group president Jack Griffin on the publisher's successes and struggles.
"A lot of publishers are facing the challenge of how to inspire legacy editors to think and act on building value across platforms beyond only print." –F+W president David Blansfield, about letting go long time Print editor Emily Gordon.  
"People are paying. We know people will pay for it … it's a business model that is just really very delicious." –Time Inc. CEO Ann Moore on tablets at parent company Time Warner's Investors Day.
"Demand Media can go to hell." –FOLIO: general manager Tony Silber on the content-farm nature of the company's business model.
"The magazine world doesn't have a consumer problem, it has an advertising perception problem." –Hearst's Michael Clinton, explaining the "Magazines, The Power of Print" initiative.
"I'm far more worried about 500 million people on Facebook than I am about 2 million people watching Fox." CNN U.S. president Jonathan Klein at Bloomberg BusinessWeek's annual Media Summit.
"I don't know what you mean by social media." –a respondent's answer to  the American Society of Business Publication Editors' question of whether time spent engaging in social media helpful or a hindrance to producing quality print or digital content?
"When do you need a magazine like Editor & Publisher more? When everything is going great or in a tie of crisis? It's more vital now than ever." Duncan McIntosh of Duncan McIntosh Co. Inc., on purchasing shuttered Editor & Publisher from Nielsen Business Media.
"'The channel' is what matters. The gizmo is secondary." –Rex Hammock on the difference between creating content and the way the content is consumed.
"My guess is that the publishers who take up the challenge won't realize any immediate financial windfall. But they'll get something better out of the deal: A chance to reimagine their content and their business on a device that offers infinitely intriguing possibilities for both." –Technologizer editor Harry McCracken, shortly after Apple's iPad launched, on what effect it might have on magazine publishing.
"Dare I say the National Magazine Awards have become, well, boring?" –Me, commenting on how the same big New York-centric titles win the contest year-after-year.
"If you're not actively thinking about creatively destructing your brand then someone else will." –David Nussbaum, chairman and CEO of F+W Media at the 2010 FOLIO: Show.
"The days of a portal Web site where everyone in the industry feels like they 'must go' there every day to keep up are over. Home pages on Web sites are less and less relevant." Dave Iannone, founder and CEO of Go Forward Media, on the growing relevance of social media.
"For us, 'brand' is not what it was even two years ago. Our customers want us to put content on their sites, they want us to build audience for them, they want to build their own databases. If we're not in that business, we're going to grow backwards." –Ziff Davis Media CEO Steve Weitzner at ABM's annual meeting.
"Apple has been very upfront about saying, 'Hey, we're going to watch how much data you can give people.' The Apple process says, 'If you do anything special with tracking, please let us know ahead of time so we can guide you' and we wrote a long e-mail about what we wanted to track and why, and their response was, 'We won't comment until you submit the app.' We're developing according to how we think they'll react but that's not really a business partnership. You just read the spec guide and say a prayer." –Nxtbook Media's Marcus Grimm on the difficulties of dealing with Apple in regard to iPad app creation.
"I made the decision to stop, once and for all, before things got out of
hand and I risked even more of my personal sanity and savings. I could
no longer fight this fight, issue to issue, trying to counter an
economic landscape that simply needs time to recover." –founder and
former editor-in-chief Anita Malik on closing down East West, for the second time.
"If we assume that the founders of Twitter really are as shallow as they appear to be, the best thing to do is the opposite of what Twitter is doing. In this case that would mean moving businesses away from advertising (the Twitter strategy)." –Internet Evolution founder Stephen Saunders on why Twitter is bad for business.
"People tend to talk about editorial and not the brand. Editors-in-chief are not equipped to do brand management." –Atlantic Media president Justin Smith at the FOLIO: Show.
"The world is changing very fast and our company is changing very fast. We're going to stake our claim on that tagline, that says because it's changing very fast, we're going to lead it." –Cygnus Business Media CEO John French on the company's new tagline and new organizational architecture.
"Most forms of content are not standardized and it's in the industry's interest to focus on this quickly regardless of devices. We need to think about the way files are created and ad formats that are consistent." –John Squires, at MPA's Magazines 24/7: The E-Reading Evolution event, on the launch of Next Issue Media.