If You Don't Go Green, We'll Shoot This Baby Seal!

Inside FOLIO:'s first-ever 'green issue.'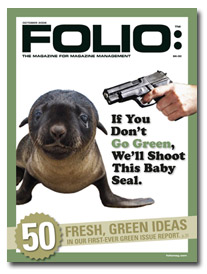 We went and did it.
After years of watching publishers from all corners of the magazine industry roll out "green" issues, FOLIO: finally caved.
I'll admit that I pushed hard for the 1973 National Lampoon-baiting cover, but in the end our editor went with the "newsstand friendly" version. (FOLIO:, of course, is on, like, two newsstands or something, but it's also hard to win any argument with "baby seal murder!")
I personally hate "green" issues for a number of reasons, the main one being they're like Spike Lee films: too preachy. And beyond preachy, not practical.
So for our "green" issue ("What Does it Mean to be Green?"), we tried to develop some "green" standards—stuff publishers can do, right now, in every plink and facet of the business, to reduce their impact on the environment. But, let's be clear: these standards are by no means intended to be definitive. Thirty percent post-consumer waste paper today could be 50 percent tomorrow. Like the green movement, standards are constantly evolving.
We also tried to be transparent—the percentage of post-consumer waste paper we use is printed right there on the cover (take that, Vanity Fair!).
And other green publishing issues I wanted to cover, ironically, just didn't fit in the print version. (Polybags, for one—what's the deal with magazines that are polybagged with nothing?)
So check out FOLIO:'s first-ever "green" issue, and let me know what you think [dylan@foliomag.com].
I'd love to hear from you.
* Don't worry, no baby seals were harmed in the making of this cover; Dan Trombetto, FOLIO:'s art director, insisted on a photo illustration. And the tear, reminiscent of a more recent cover controversy, was his idea.

Meet the Author
---